So this is one of those books that is really, really, hard to review without spoilers.  Honestly, it's really difficult to review, period.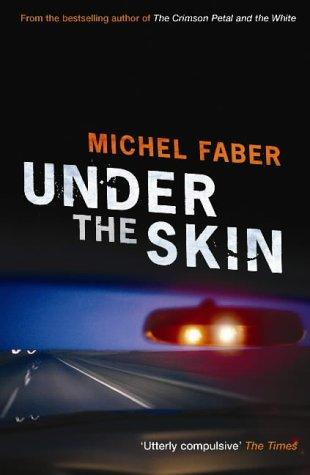 To start things off here's the synopsis from its Goodreads page:
Hailed as "original and unsettling, an Animal Farm for the new century" (Wall Street Journal), this debut novel lingers long after the last page has been turned.

Described as a "fascinating psychological thriller" (The Baltimore Sun), this entrancing novel introduces Isserley, a female driver who picks up hitchhikers with big muscles. She, herself, is tiny-like a kid peering up over the steering wheel.

Scarred and awkward, yet strangely erotic and threatening, she listens to her hitchhikers as they open up to her, revealing clues about who might miss them if they should disappear. At once humane and horrifying,Under the Skin takes us on a heart-thumping ride through dangerous territory, our own moral instincts and the boundaries of compassion.
I'm seriously embarrassed of how long I've been staring at the page, looking for the right words to describe this book.  I liked it, I don't think I loved it.  I was close to putting it down a few times but really wanted to give it the shot I thought it deserved and I'm glad I did.  This book is the textbook definition of a slow-burn, which is usually something I like.  One of my favorite books is Never Let Me Go by Kazuo Ishiguro, a book that is slow-moving yet so compelling that you can't stop.
I didn't think this book was quite as compelling.  It felt a little off-balance to me.  With any book like this there is always the Great Reveal.  The moment when that huge question, the elephant in the room that only gets bigger and bigger, is finally answered.  The suspense for the Great Reveal is so intense but then after the Great Reveal the novel, which took place mostly in the mind of the main character Isserley, was suddenly very conversation heavy.  It seemed as though after Faber had let go of the Great Reveal he suddenly let out a big sigh and with it came all of these conversations, which were great, by the way, and very compelling and really brought out the heart of the book, but it just felt completely different than Act I and I think they could have blended a little better.

Another thing about this book that makes it difficult to review is that once I was done I instantly wanted to discuss it with someone, and unfortunately I finished it at midnight last night, alone in my room, and instead had to stay up for awhile just thinking about it.  This book definitely has a message, one that the author does not hide as there are discussion questions in the back of the book designed to get you to form your thoughts around questions Faber raises.
It's truly impossible to discuss the message and questions the book proposes without giving away the Great Reveal, so I'll refrain, but like I said this is a book I really really really want to discuss so if anyone else has read it please say so in the comments!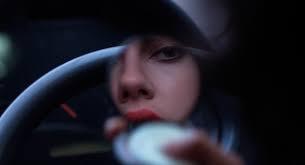 Also, it's worth noting that the reason I chose this book is because I saw the blog Jezebel post the trailer for film adaptation starring Scarlett Johansen on twitter.  Here is the full-length trailer:
Is it just me or is that absolutely unlike any other trailer you've ever seen?  There's no title card stating the title of the film or the people starring in it, it's just clips.  All smashes together.  I'm not complaining, it's definitely intriguing and got me to read the book first but it's unique.  Judging by the trailer it's going to be a bit different from the book but I hope the central message is the same because then I can discuss it with whoever I see the movie with!
This book is a bit hard to recommend for the reasons I mentioned above.  However, if you can handle sloooooow-burning books and don't mind being asked to think long and hard after reading a novel I wouldn't hesitate to mention this novel.  I surely haven't read anything else like it!
You can buy Under the Skin on Amazon here and Barnes and Noble here.
Did my review make you want to read this novel or scare you away?  I'm anxious to hear in the comments!
You May Also Enjoy:
Kicking Off Serial Thriller Week! Giveaway Inside!
Top 10 Tuesday: Books On My Fall TBR List
Original Short Story Feature by Cassidy Liston
Justine's A to Z Book Survey
Book to Movie review: "I Know What You Did Last Summer" by Lois Duncan
Review Mash Up: The Walking Dead, Graphic Novels, T.V. Show, & HHN Maze
Horror Novel Guest Post Review by Kat: The Turn of the Screw by Henry James
Horror Novel Feature: "The Door to December" by Dean Koontz