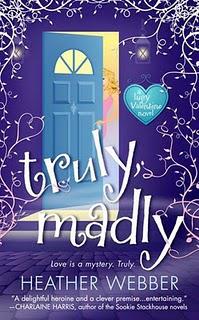 Truly, Madly
by Heather Webber
Genre: Contemporary Fiction, Paranormal, Mystery
Pages: 205 (Ereader)
Excerpt:
But I couldn't turn my back on how he felt for Jennifer.  To still lover her after all this time...It was worth a shot.  But first I needed to find her.  See if she was married.  Nothing like a wedding band to put a kink in my plans.  "There's no replacing Jenny, Ms. Valentine.  But she doesn't want me, and I need to move on."  I took a leap of faith.  "How would you feel if I contacted Jennifer, maybe explain what really happened all those years ago, see if she had any interest in meeting with you?"
His eyebrows dipped. "I can't imagine she'd say yes."
"But?"
Hopeful, he said, "But it might to be the closure I need to move on."
I agreed. Whether the idea panned out or not, a meeting might heal some old wounds for both of them. I collected some information from Michael to help find Jennifer and told him I'd call him as soon as I learned anything.
He stood, held out his hand. "Thanks." I shook it, froze.
Images flashed through my head, like an old-fashioned movie with its real spinning out of control.  Dizzy, I swayed.
"Ms. Valentine? You Okay?"
My Rating:

My Review:The Valentine family has had a very successful match-making legacy for years  and Lucy Valentine is in charge of the family business for two weeks.  There is only one problem... Lucy does not have the knack for matchmaking due to a freak accident that occurred when she was younger.  Lucy struggles with her feelings of inadequacy and her seemingly useless talent of finding lost objects and attempts to manage the business without too many mishaps.
This book was a breathe of fresh air.  The characters were genuine and funny.  Reputation is very important to Lucy and her family, but it doesn't prevent them from getting into a few comedic and interesting scrapes.  Oh and there is the hot private investigator, Sean, who happens to work upstairs.  This is the first book in a new series and I am excited to move on to the next one.  There was lots of romance, comedy, and a tad paranormal activity.  All in all, it is a great light-hearted read.