I know I'm like the last person to try using this product because I've been reading about it on natural hair boards and blogs for awhile now. It's just that, if I'm already using products I like, that work for me, it's hard to tear me way. (I'm a creature of habit I guess.) So when I ran out of my Giovanni Smooth as Silk Conditioner and I found myself in Trader Joe's one day, I decided that I would try Trader Joe's Tea Tree Tingle Conditioner. I'm glad I did!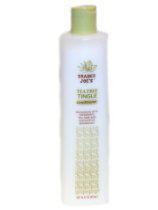 Trader Joe's Tea TreeTingle Conditioner $3.99 (16oz.)
Ingredients: water, tea tree, peppermint oil, eucalyptus oil, nettle oil, thyme oil, birch leaf oil, chamomile oil, clary, coltsfoot leaf, yarrow oil, mallow, horsetail oil, soybean protein, cetyl alcohol, vitamin e, trace minerals, citric acid, sodium hydroxymethylgycinate, grape seed oil
This stuff is great! It has incredible slip, and I was able to detangle my sopping wet hair easily without using half of the bottle. The Tea Tree Oil and Peppermint definitely "tingle" my scalp and made it feel really clean. I had hardly any hair left in the shower or my comb when I was done. Then I used a bit to style my hair in my usual two-strand twists along with a bit of Eco-Styler Gel, and the twists came out great! And you just cant beat the price. 16 oz for less than $5?! On top of that the bottle is recyclable, and the poroduct is cruelty-free. (They didn't hurt any bunnies to make it). I love when my beauty regiment aligns with my green routine. Love this stuff!
RATING: 5 Savvy!* – Great product, great ingredients, great price, earth friendly!
If you don't live near a Trader Joe's, this product is available in the Savvy Shop
*Savvy Ratings: 5=Savvy 4=Smart 3=Suitable 2=Satisfactory 1=Stupid