Tots Bots are a huge name in the world of cloth nappies, and there are people out there who are addicted - collecting all the prints which can sell for crazy amounts of money. I tried Tots Bots all in one (Easyfit) out with Isabelle last year and I was not impressed at all. Despite the gorgeous designs, the nappy wasn't absorbent at all, and once she had outpeed it in just 5 minutes! So when I found out they were releasing new, improved versions of the Easyfit, I was pretty intrigued. Drawn back in by their gorgeous prints, I bought two new v4s to try out. So, what do I think?
Tots Bots v4 Easyfits
Details: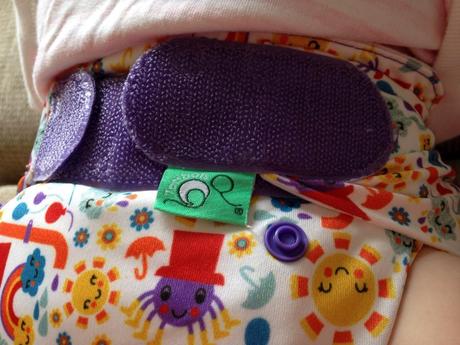 A birth to potty, all in one nappy, suitable from 8lbs-35lbs. They are adjusted using the front snaps (2x2 instead of the normal 3x3). The new Easyfits come with just a velcro fastening. The absorbent inner in the v4 is made of 'binky' - bamboo and minky. The core folds out to aid drying time, and it comes with a snap in binky booster too.
Fit:
I always find velcro fastening nappies really easy to get a great fit around the waist, and these are no exception. Isabelle wears them unsnapped on the largest rise setting, and they fit her really well. I do think that when the booster was added in, the whole nappy was really bulky - much more so than other nappies. Since the old nappy was so slim, I was quite surprised at this.
Containment:
Given my previous dealings with an Easyfit, I was dubious about how we'd get on. But I was pleasantly surprised. We haven't yet had a leak from these, and they last just as long as all our other nappies. I'm confident that the bamboo being brought back in to Easyfits is entirely the cause of their increased absorbency, and it works really well for us. Solids containment has yet to be tested!
Ease of use:
As it's a velcro fastening, these are as simple as anything to pop on her bum. It is a bit of a faff having to pull the core out, and detach the booster each time I wash the nappy, however. I also don't find the laundry tabs easy to use at all on Easyfits. The velcro tab literally doubles over on itself, and I personally don't think this works well, and makes it a little trickier to get the tab to stick down firmly.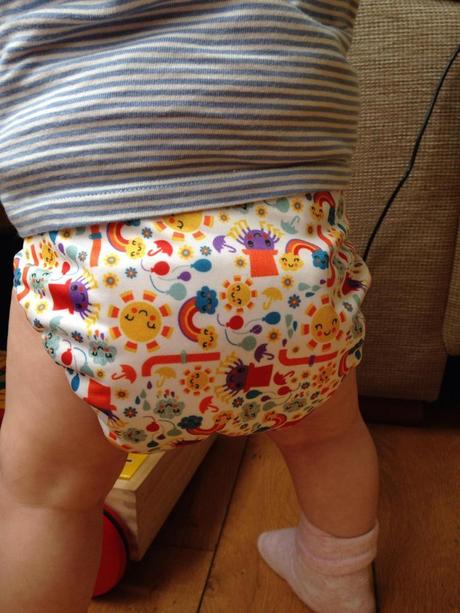 Appearance and quality:
I love the Tots Bots prints. They are bright, quirky, and generally just really lovely. The new v4s are all nursery rhyme themed, and I bought Incy Wincy and Sixpence, both of which I adore. They are definitely cute on her bum! The quality is also really good, and the materials all feel great, and seem durable.
Cost:
£16.99 - all in ones tend to be expensive, but I do think that Tots Bots are a little more expensive than they should be.
Bug bears:
This nappy is supposed to be an all in one, yet I have to add a stay dry liner as I don't like Isabelle having moisture next to her skin, so I personally would like a stay dry inner. I hate having to add something to a nappy which is supposed to be all there. The laundry tab issue I mentioned is also a pain, I think it's a personal preference, but I just don't like their tabs.
Overall:
The new binky V4 Easyfits get 4/5 from me. They are much more absorbent than their predecessor, and work well for us and are absolutely gorgeous, but they are expensive, and I do have a few niggles which stop it getting higher marks.