As I've mentioned previously, I've had a bit of a nightmare pregnancy. I've suffered from severe
SPD
and very painful middle and lower back issues from about week 20 of my pregnancy, and although I'm not too happy about it, I am taking Codeine to try and get some slight relief.
It is probably about 3 months since I got a comfortable and full nights sleep, so I jumped at the chance to try out the
Theraline Maternity Pillow
.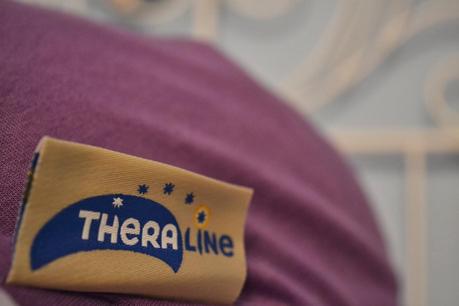 The Theraline pillow is body length and is angled in the middle into a shallow V or slight boomerang shape and is filled with tiny beads so it moulds softly to your body and keeps it's shape - it is also the hardest thing to get a good photograph of!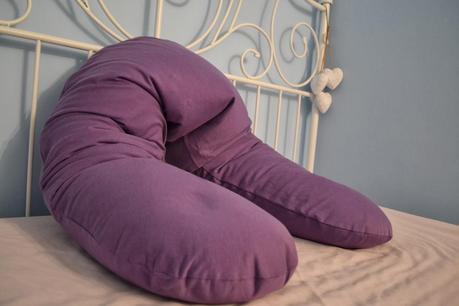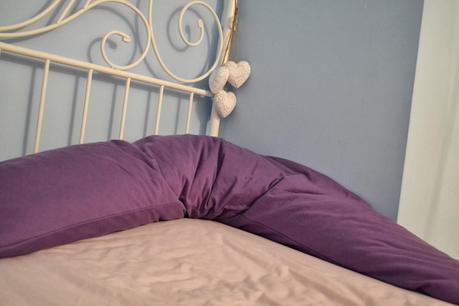 It can be used in numerous different ways, I've been using it tucked between my thighs, with my bump laid in the middle and my head on the top. You can comfortably create a dip to accommodate you bump and at the same time it seems firm enough to support my neck and head.
I've also been using it as a back support when sitting on the settee. Our settee looks fab, but it's not the most comfortable, so I can often struggle to get comfortable and get up. I find the pillow curled round my back a great help. It keeps my back supported and gives me the much needed pressure on my lower back.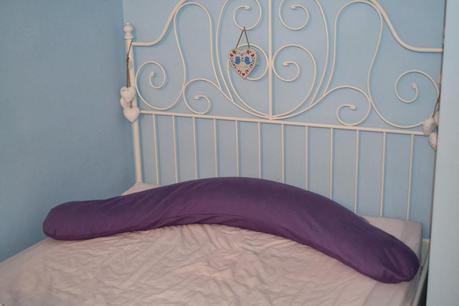 The pillow comes with a illustrated sheet of suggestions on how to use it, there's something for everyone, both during and after pregnancy.




The pillow I was sent comes in a rich purple jersey cover which on the website is named

orient blue

. If that's not to your taste it is available in numerous other colours and material types, you can even buy it without a cover if you prefer. Prices range from £30 to £44.95 depending on your choice.




The cover is easily removed and is washable.




The pillow can also be used when your little gremlin arrives, and is suggested as a great way to help with nursing or breastfeeding, as it can help support baby, which I imagine would be a bit of a godsend, particularly if you're recovering from a c section.




I am massively impressed with the pillow, and can't believe how much better I am sleeping because of it. It has become my new best friend!




One of my lucky readers also has the opportunity to with their own Theraline maternity pillow. All you need to do is complete the rafflecopter form below.


 
a Rafflecopter giveaway