The Shins were the band of choice for Kent State's first concert of the 2012-2013 concert season. Kent State usually hosts between two and three concerts each school years, and students across campus anxiously wait to see who will be announced. The Shins are a definite departure from other recent acts, including Bruno Mars, Rise Against and Third Eye Blind. 
Up until the beginning of the show, Kent State's Undergraduate Student Government (USG) was still working to sell tickets to the show. While some seemed nervous about turnout, the floor was quickly packed and the bleachers above began to fill. The local opening act, based in Akron, made multiple James Mercer-loving fans sway to their Explosions in the Sky-esque sound.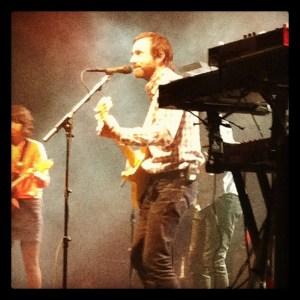 James Mercer of the Shins performs at the Kent State MAC Center in October. (Copyright Euclid & 9th)
However, the diehards were there for James and Company, and they did not disappoint. The group played favorites including "So Says I," "Saint Simon," and "Kissing the Lipless," complete with acoustic guitar breakdown. The crowd knew the words to songs old and new, including current single "Simple Song" and "It's Only Life." Other tracks off of Port of Morrow resonated with the audience, and by the end of the show, lead singer Mercer had the crowd dancing and singing along.
The Shins were accompanied by a pleasant light show that never distracted from the band itself. While Mercer is an engaging frontman, he also let the spotlight shine on his counterparts. He made sure to introduce his fellow band members early on, most of whom received shouts of "I love you!" and "Marry me!" from the receptive audience.
The Shins put on a great show, especially for those who were already fans. However, anyone who was in the audience and was unfamiliar with the band had to be won over. The band sounded perfect, completely in sync with each other and constantly smiling, while all of the fans in attendance just kept singing. It was a beautiful night, and one sure to convert all of those unsure about the band.