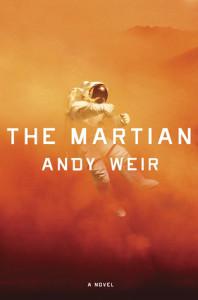 I recently devoured "The Martian" by Andy Weir. This is a review of the book, where I will praise it highly and encourage you to read it immediately: 
First, a summary from Goodreads:
Six days ago, astronaut Mark Watney became one of the first people to walk on Mars. Now, he's sure he'll be the first person to die there. After a dust storm nearly kills him & forces his crew to evacuate while thinking him dead, Mark finds himself stranded & completely alone with no way to even signal Earth that he's alive—& even if he could get word out, his supplies would be gone long before a rescue could arrive. Chances are, though, he won't have time to starve to death. The damaged machinery, unforgiving environment or plain-old "human error" are much more likely to kill him first. But Mark isn't ready to give up yet. Drawing on his ingenuity, his engineering skills—& a relentless, dogged refusal to quit—he steadfastly confronts one seemingly insurmountable obstacle after the next. Will his resourcefulness be enough to overcome the impossible odds against him? 
I've decided that I will shy away from spoilers, but I won't worry about any information that has already been revealed in the movie trailer for "The Martian."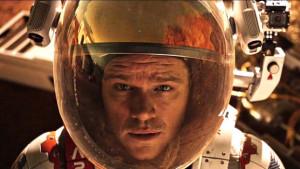 To begin, I really liked this book. The main character, Mark Watney, is refreshingly human and brings with him a witty humor and a much needed determination in his approach of the stage where a homicidal planet has demanded he preform. Much of the book is written from his perspective in the style of daily logs. His logs are enjoyable to read and flow much the same way you or I might think to record the events of a sol (day) on Mars. This way of storytelling is interesting, because you can only get the information after the fact. I can think of a few other novels that are structured this way, but none of them (that can I remember off the top of my head, at least) have come close to having to depict the same type of horrifying situations and anxieties that Mark Watney experiences. I remember being so anxious after finishing a log where it would end something like "… and I guess that's what I'll do tomorrow!" and I was thinking: "No. Literally you will die. There is literally no way that you will not die."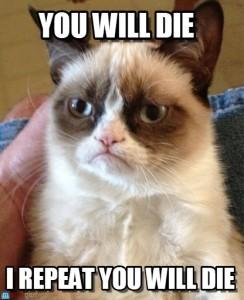 Afterwards, I would be so relieved to turn the page, and see the next log say something like "Well, I'm not dead." It was quite fun.
A few sols into the book, we begin experiencing the story from the view of the people back on Earth (and later on-board the Hermes, as well). Strangely (considering the majority of the novel is spent with Watney), this is where I most related to the characters. Well–maybe it's not that strange. After all, I've never actually been stranded on Mars, but I can relate to the same sort of worry and horror that someone experiences in a situation where they have little hope of altering the outcome. I shouldn't say they have little hope. In fact, they end up collecting quite a lot of it, and the way in which the people of Earth come together in this story freaks me out (in an awesome way) because it is beautiful, optimistic, and it showcases the perseverance of our species.
I have been shamelessly telling my friends to read this book as of late. I think that one of the hurdles this book might encounter, as would all other books of its genre, in reaching a wider audience is that some people tend to shy away from science fiction. This is heartbreaking to me. I'll admit, I'm way into STEM–it's what I'm passionate about–so the story of Mark Watney is incredibly interesting to me. It is an exciting reminder of how embracing the sciences can be used to accomplish amazing things. That's why it breaks my heart when someone is weary to pick up a book like this. This can be our future (hopefully with a lot less bad luck – #journeytomars)! As I mentioned in a previous post, my friend and I literally had a mini-debate on whether this book should be called "Science Fiction" or simply "Fiction." That's how close we are.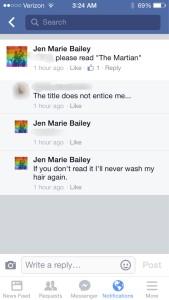 I give this book 5/5 stars. If you know me, you know how I am with my television shows. It's a rare book that can make me actively choose to turn off Netflix, and this one did. Read it, immediately.
The Martian
Andy Weir
Random House LLC, 2014
ISBN 978-0-553-41802-6
Cover art retrieved from: http://www.goodreads.com/book/show/18007564-the-martian?from_search=true&search_version=service
Matt Damon as Mark Watney image retrieved from: http://www.scifinow.co.uk/news/the-martian-will-be-a-great-film-says-author-andy-weir/
Grumpy cat "you will die" meme retrieved from: http://m.memegen.com/sqwi4p.jpg
Facebook thread jpg retrieved from: my phone!