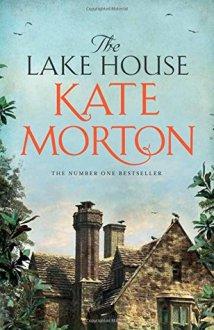 The Lake House by Kate MortonAuthor Website
Amazon (UK)
Amazon.com
Mantle (hardback), 2015608 Pages
A missing child...
June 1933, and the Edevane family's country house, Loeanneth, is polished and gleaming, ready for the much-anticipated Midsummer Eve party. Alice Edevane, sixteen years old and a budding writer, is especially excited. Not only has she worked out the perfect twist for her novel, she's also fallen helplessly in love with someone she shouldn't. But by the time midnight strikes and fireworks light up the night skies, the Edevane family will have suffered a loss so great that they leave Loeanneth forever.
An abandoned house...
Seventy years later, after a particularly troubling case, Sadie Sparrow is sent on an enforced break from her job with the Metropolitan Police. She retreats to her beloved grandfather's cottage in Cornwall but soon finds herself at a loose end. Until one day, Sadie stumbles upon an abandoned house surrounded by overgrown gardens and dense woods, and learns the story of a baby boy who disappeared without a trace.
An unsolved mystery...
Meanwhile, in the attic writing room of her elegant Hampstead home, the formidable Alice Edevane, now an old lady, leads a life as neatly plotted as the bestselling detective novels she writes. Until a young police detective starts asking questions about her family's past, seeking to resurrect the complex tangle of secrets Alice has spent her life trying to escape...
The rain was heavy now and the hem of her dress was splattered with mud. She'd have to hide it afterwards; no one could know that she'd been out.
I'm a huge fan of Kate Morton and have read all of her books.
The Lake House is full of mystery, tragedy and suspense. The book is quite slow at first and it took me ages to get into it. It was worth sticking with in the end and it turned out to be a cracking read. My heart was in my throat for the last four hundred or so pages. One thing the author is good at is taking the reader by surprise, leading you down one path only to yank you, unexpectedly and breathlessly in another direction altogether. The Lake House is no exception. Page after page took me somewhere completely unexpected. Theo's fate is finally revealed - and the truth is nowhere near what my dark mind expected. The Lake House is a cracking read.