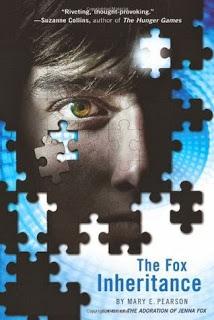 Source: eLibrary
The Fox Inheritance by Mary E. Pearson
Series:  Jenna Fox Chronicles #2
Genre: Dystopia, Young Adult
Length:  9 hours and 30 minutes
Narrator: Matthew Brown
Author's Website
|
Blog
 |  Facebook |
Twitter
Buy it: Amazon |
Kindle
|
B&N
|
Book Depo
Description:
Once there were three. Three friends who loved each other—Jenna, Locke, and Kara. And after a terrible accident destroyed their bodies, their three minds were kept alive, spinning in a digital netherworld. Even in that disembodied nightmare, they were still together. At least at first. When Jenna disappeared, Locke and Kara had to go on without her. Decades passed, and then centuries.
Two-hundred-and-sixty years later, they have been released at last. Given new, perfect bodies, Locke and Kara awaken to a world they know nothing about, where everyone they once knew and loved is long dead.
Everyone except Jenna Fox.
My Rating:

The Fox Inheritance
takes us away from Jenna's struggle and fast forward's many more year's and many more medical advances to Jenna's best friends Locke and Kara who are awake to a world of confusion and hurt.  Unlike Jenna who awoke from her coma into the arms of her loving family, Locke and Kara are in the care of a mad scientist of sorts and all the people they knew and loved are dead... or so they think.  They soon make a plan to track down Jenna but they may not have the best of intentions.
On the story...
This one wasn't as fun or thought-provoking as the first.  I found Locke and Kara's reactions feelings toward Jenna to be unreasonable and Locke's cowardice and timid behavior was annoying to follow.  The world-building could have been better.  Sometimes I felt there was no real point to the entire book.  The ethical issues were present but more clear-cut and less thought-provoking.
On the narrator...
Mr. Brown didn't stand out to me.  He didn't distract from the story and his voices were distinct enough.  Since I didn't like Locke much, it was hard to love Mr. Brown.
Overall, not as satisfying as the first.  The first ties everything up very well and the second isn't a must-read.