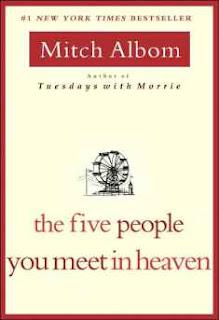 The Five People You Meet in Heaven
by Mitch Albom
Genre: Inspirational, Literary Fiction
Pages: 196 (paperback)
Source: Mom's Bookshelf
Author's Website
Buy it:
Amazon
|
Kindle
| B&N |
Book Depo
Description:
Eddie is a wounded war veteran, an old man who has lived, in his mind, an uninspired life. His job is fixing rides at a seaside amusement park. On his 83rd birthday, a tragic accident kills him as he tries to save a little girl from a falling cart. He awakes in the afterlife, where he learns that heaven is not a destination. It's a place where your life is explained to you by five people, some of whom you knew, others who may have been strangers. One by one, from childhood to soldier to old age, Eddie's five people revisit their connections to him on earth, illuminating the mysteries of his "meaningless" life, and revealing the haunting secret behind the eternal question: "Why was I here?
My Rating: 

My Review: Eddie is alone.  He has no family and no friends.  He is bruised both emotionally and physically.  In the first chapter of this book, he dies while saving the life of a young girl.  Eddie leaves feeling as if his life wasn't anything special and readers follow him into heaven where he meets five people whose lives and death were substantially connected to his own.  The reader follows as each person shares a lesson and story.
If you haven't read this book, you need to go buy it right now.  As much as it sounds like a corny version of Scrooge, it really and truly isn't.  Mr. Albom is really great at telling a simple story in the most touching ways.  I've often wondered whether people learn the secrets from their time when they die.  Will we ever get answers?  Well Eddie gets answers and it puts his life in a whole new light.  This book is an emotional roller coaster and I found myself wanting laugh and cry usually at the same time.  It is a quick read, Mr. Albom's books typically are.
For those who don't know, Mitch Albom's book covers are very similar even though they are stand-alone reads.  I think the book recognition is stronger than the name recognition.  I've found this very interesting because the covers are never anything fancy to look at but they always catch my eye because I instantly recognize them for what they are.
Have you read a Mitch Albom novel before?  What did you think?  Which are your favorite? Some people have very strong reactions against him but I'm not sure why.