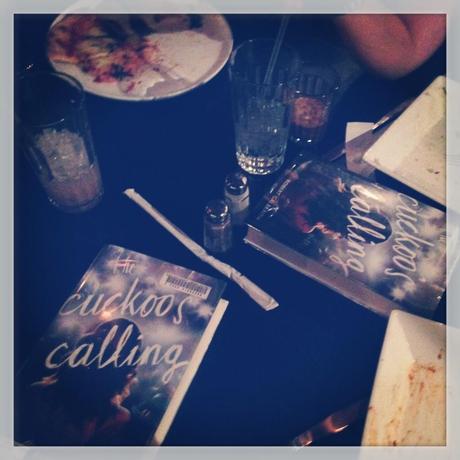 Empty plates a full hearts at book club!
This review will feel a little short and stunted because, well, it will be.  As you can see from the picture above, The Cuckoo's Calling by Robert Galbraith was our book club's April read.  My book club is an awesome fantastic book club that actually discusses the book at hand for a really really long time and so, to be honest, I'm a little talked-out on this one!  It's hard for me to think of to say because I've kinda already heard and said it all!
Here is the synopsis from its Goodreads page:
After losing his leg to a land mine in Afghanistan, Cormoran Strike is barely scraping by as a private investigator. Strike is down to one client, and creditors are calling. He has also just broken up with his longtime girlfriend and is living in his office.
Then John Bristow walks through his door with an amazing story: His sister, thelegendary supermodel Lula Landry, known to her friends as the Cuckoo, famously fell to her death a few months earlier. The police ruled it a suicide, but John refuses to believe that. The case plunges Strike into the world of multimillionaire beauties, rock-star boyfriends, and desperate designers, and it introduces him to every variety of pleasure, enticement, seduction, and delusion known to man.
You may think you know detectives, but you've never met one quite like Strike. You may think you know about the wealthy and famous, but you've never seen them under an investigation like this.
Did you catch my sneaky parentheses up there in the subject?  JK Rowling is now writing under a pseudonym, Robert Galbraith, and this is the first novel in her new crime series centered around detective Cormoran Strike.  The sequel has already been confirmed!  I found this funny picture of how JK Rowling came up with her pen name and had to share it: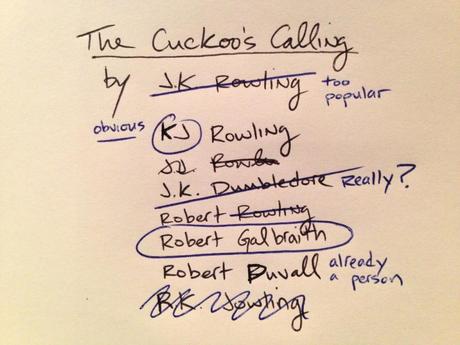 Too funny!
I'm very glad that I tried her new writing endeavor because I really enjoyed this novel.  She was funny (who else describes someone's mouth as a "cat's anus"?) and crafted a very well thought-out mystery.  The ending was a great blend of surprise and sense, sometimes you can have too much of one or the author and it ruins your "gotcha" moment in a mystery.
She portrayed Cormoran's relationship with his assistant, exceedingly well.  He was recently out of a relationship and she was newly engaged and so their relationship is strictly platonic and professional; I was very worried it would be a "Molder-Scully" saga where they are constantly revolving around this romantic tension, but thankfully that was non-existent.  I have a similar office situation with my boss, it is just he and I in our office, and she captured the complexities so perfectly!
It does move a bit slow for my taste, that's why this is getting 4 stars, but it also made for a methodical and complex mystery that has a very satisfying ending.  I promise that the 450 pages are worth it!
Have you read her other book after the Harry Potter series, The Casual Vacancy?  What have you thought of her books post-Harry Potter?