I mentioned in my What…? Wednesday post this week that one of my reading goals is to read every novel that's won the Pulitzer Prize.  Obviously this is a life-long goal and I plan to sprinkle them into my normal reading list.  THE BRIEF WONDROUS LIFE OF OSCAR WAO is one of those winners.
Here is the synopsis from its Goodreads page:
This is the long-awaited first novel from one of the most original and memorable writers working today.

Things have never been easy for Oscar, a sweet but disastrously overweight ghetto nerd, a New Jersey romantic who dreams of becoming the Dominican J.R.R. Tolkien and, most of all, of finding love. But he may never get what he wants, thanks to the fukú — the ancient curse that has haunted Oscar's family for generations, dooming them to prison, torture, tragic accidents, and, above all, ill-starred love. Oscar, still dreaming of his first kiss, is only its most recent victim – until the fateful summer that he decides to be its last.

With dazzling energy and insight, Junot Díaz immerses us in the uproarious lives of our hero Oscar, his runaway sister Lola, and their ferocious beauty-queen mother Belicia, and in the epic journey from Santo Domingo to Washington Heights to New Jersey's Bergenline and back again. Rendered with uncommon warmth and humor, The Brief Wondrous Life of Oscar Wao presents an astonishing vision of the contemporary American experience and the endless human capacity to persevere – and to risk it all – in the name of love.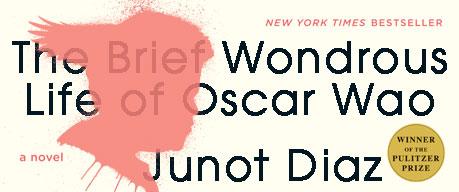 I started out super impressed by this novel as it was teaching more than I've ever known about American-DR relations in just the introduction.  I was both humbled and encouraged: the older I get, the more I realize that I know very little and only want to know more.
However, after that, I wasn't very moved.  I don't mind, and in fact usually relish in, snarky social commentary in a story but this was social-political commentary hidden in a shitty story.   It barely went anywhere.  The only compelling part was his sister's storyline which was barely developed and definitely unsatisfying.  The novel was laced with deeply nerdy references to Dungeons & Dragons and video games and fantasy novels, which I definitely appreciate, but it lacked a cohesive story that kept the book going.  And the writing wasn't stellar enough to cover for it.
I enjoyed much more WE NEED NEW NAMES by NoViolet Bulawayo, you can read my review here.   There's some social-political commentary in a GREAT story that ends up being far more compelling because it gets you in your gut.
Have you read this novel?  What did you think of it?