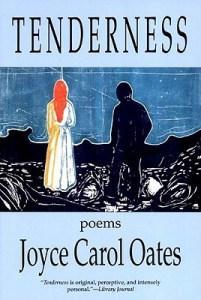 Tenderness: Poems by Joyce Carol OatesPoet's Website
Amazon (UK)
Amazon.com
Ontario Review Press (paperback), 1996104 Pages
BLURB
This is Joyce Carol Oates' eighth volume of verse, a selection of 57 poems ranging from the lyric to the narrative to the satiric. Most of them have appeared in magazines and journals including the New Yorker, the Atlantic Monthly and Triquarterly.

Shall we tell them thanks but why
reward us who, as children,
filled in time by filling in
colouring books? Or shall we lie?
O Crayola! - even the taste was good.

Tenderness contains exactly the type of contemporary poems I love - perfect imagery and emotions, each poem vivid, beautiful and hard to get out of your head once read. JCO's poems are as excellent as her fiction. This collection contains poems I found it easy to get lost in and swept along by. Tenderness is split into sections (T enderness, Undertow, What Is Most American Is Most In Motion and In The Country Of The Blue so the poems can be devoured into lovely little chunks. I have a few favourites from each section. From Tenderness I loved I n Blue Nantucket, Nightmare, So Sweet and Tenderness. From Undertow I loved The Stone Well, Snapshot Album and Flash Flood. From What Is Most American Is Most In Motion my favourites were $, There Was A Shot and Like Walking To The Drug Store, When I Get Out. I was partial to The Insomniac, Hermit Crab and T o An Aged Cat Dying In My Arms from In The Country Of The Blue. JCO offers a collection of well-written, evocative, startling and moving poems in this collection. Highly recommended for anyone who loves a good poem or for JCO fans who have only read her fiction.