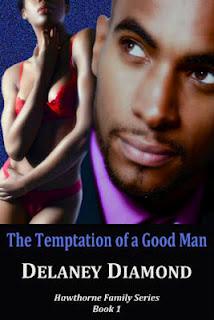 Temptation of a Good Man
by Delaney Diamond
Hawthorne Family #1
Genre: Romance, Cultural, African-American
Pages: 82 (ebook)
Author's Website
|
Facebook
|
Twitter
Description:
Can true love be found after one night of passion?
 Celeste Burton goes out with her girlfriends to celebrate turning thirty and winds up spending an unforgettable night with the man of her dreams. One week later, as a favor, she attends a wedding with a friend as his date and is shocked when she sees Roarke again.
 Roarke Hawthorne despises cheating. Cheating tore apart his family years ago. When the physics professor sees the woman he spent the night with show up at his sister's wedding on the arm of his brother, he knows he should keep his distance. But because of the night they set fire to the sheets in his hotel room, he can't resist the urge to be close to her–nor can he resist the temptation to have her back in his bed
My Rating:

My Review: While out for her birthday, Celeste meets the perfect man.  After the perfect night she slips away quietly convinced that the experience was in her head.  Soon after her friend Derrick asks her to pose as his girlfriend at a family wedding.  He wants to impress his family with his success.  Needing a vacation, Celeste agrees, but she is unaware that she already knows a bit more about Derrick's family than she originally thought.
This story was pretty hot and I was really intrigued about the conflict.  I flew through the pages desperate to get to the resolution.  It's a short 82 pages and it didn't take me long to read it.  This well-written story kept me on the edge of my seat but I couldn't help but wish it were longer.  I feel like the story was a tad underdeveloped and wished the conflict was drawn out a bit longer.  It's the first in the series so I will definitely check out the next one.
Overall, I recommend this for those who enjoy quick sensual reads with a bit of a drama.