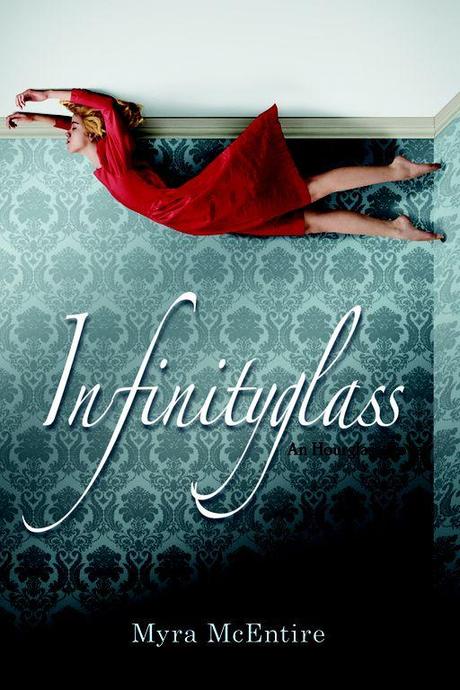 If you haven't read one of our Review Take 2′s before, you can see a list of them here.  We are blog reviewing team, not just a single person, so often we read books that are just so great we suggest (okay, force) each other to read them!  Perhaps one of these days if Justine and I can convince Chad to read some of our favorite books (*cough*THE FAULT IN OUR STARS*cough*) we'll have a review take THREE!
Here is the synopsis of Infinityglass from its Goodreads page:
The stakes have risen even higher in this third book in the Hourglass series.

The Hourglass is a secret organization focused on the study of manipulating time, and its members — many of them teenagers -­have uncanny abilities to make time work for them in mysterious ways. Inherent in these powers is a responsibility to take great care, because altering one small moment can have devastating consequences for the past, present, and future. But some time trav­elers are not exactly honorable, and sometimes unsavory deals must be struck to maintain order.

With the Infinityglass (central to understanding and harnessing the time gene) at large, the hunt is on to find it before someone else does.

But the Hourglass has an advantage. Lily, who has the ability to locate anything lost, has determined that the Infinityglass isn't an object. It's a person. And the Hourglass must find him or her first. But where do you start searching for the very key to time when every second could be the last?
I was so excited to finish the Hourglass trilogy but I had a few concerns.  I, and this is totally my problem as a reader, am super harsh on final books in series.  I've discovered a pattern in my reading: usually the last book in a series is my last favorite.  This is true of The Hunger Games, Twilight, and Delirium.  Especially with Requiem (the final book in the Delirium series) and Breaking Dawn (the final book of Twilight) I was downright disappointed.  Knowing this going into the finale of one of my favorite science fiction series I was nervous and excited.
Every book in the Hourglass trilogy is written from a different character's perspective, Infinityglass being written from two characters' points of view, Dune and Hallie.  I've read a few reviews that don't like this aspect but it's something that keeps the series really fresh for me.  It's called the Hourglass after all, shouldn't the books be about the group as a whole?  And I'm never going to complain about getting to be in a different one of Myra McEntire's ultra-dynamic character's heads every book!
The biggest reason I appreciate all of the different characters of the Hourglass is because of the wonderful theme that runs throughout the series: family.  There's biological family, sometimes strong like in Emerson's case and sometimes weak like in Hallie's case, and the manufactured family.  The family you create out of friends that are so close they feel closer than your blood relatives.  This is one of my favorite lines of the book: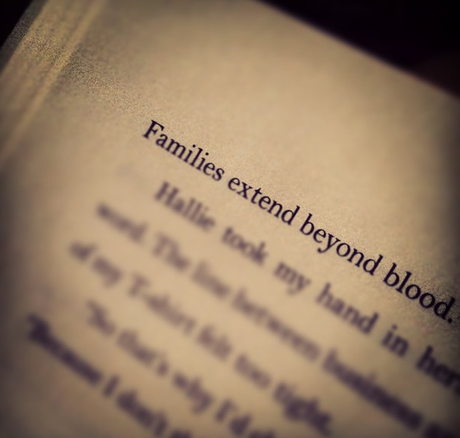 I've found this quote to be true in my own life.  I'm so thankful for my friends that feel like family and I really connected with this theme that was present in all three Hourglass books but was really brought full circle in Infinityglass.
So does this book break my finale-dislike-itis?  It definitely did.  I realize in writing this review that I barely told you anything about the story of the book, especially the exciting action adventure part, but maybe that's why I liked this finale so much.  It was more than just a conclusion, it really made the story more than a fiction book.  It did what I love so much about science fiction: connected the supernatural to my every day life.  In its larger-than-life terms it poetically illustrates something very real: the meaning of friendship and true family.
Bravo, Myra McEntire!  I cannot wait to see what you do next!
You can buy Infinityglass on Amazon here and on Barnes and Noble here.
You May Also Enjoy:
Review: Infinityglass by Myra McEntire
Review Take 2: "Timepiece" (Hourglass #2) by Myra McEntire
Review: Timepiece (Hourglass #2) by Myra McEntire
Review: Hourglass by Myra McEntire
Story-Inspired Experience: Cubano Espressos at Liberty Market
Review: "Time Between Us" by Tamara Ireland Stone
"Time After Time" Inspired Playlist & Giveaway!
Top 10 Tuesday:Books I Would Love to See in a Movie/ T.V.Show