Having previously tried another Aloe Vera drink from another brand and being unimpressed I wasn't too sure what to expect from the Aloe Vera drinks from TAJ Foods.
TAJ Foods are the UK and Europe's leading ethnic food brand within the branded FMCG food market (Fast Moving Consumer Goods) and has been established for over 30 years.
I was recently given the opportunity to try two drinks from their range.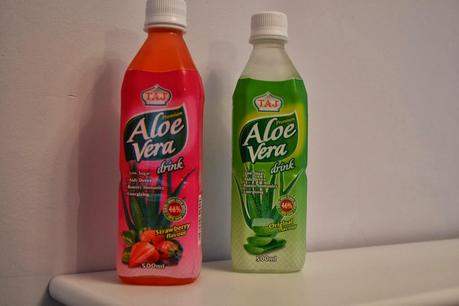 The details on the bottles claim that the drinks are low in sugar, aid detox, boosts immunity and contain 30% aloe vera juice and 16% pulp. They are also suitable for vegetarians, Halal approved and contain just a small selection of of ingredients including filtered water, glucose and natural flavour, and are made with real Aloe Vera juice not powder.
The juices come in six flavours, original, strawberry, lychee, mango, passonfruit, cranberry & pomegranate. I was sent the original and strawberry flavours to try out.
Aloe Vera contains a multitude of vitamins including A, C, E, folic acid, B1, B2, B3, B6 and B12, which helps with brain and nervous system function. The drinks are not suitable if pregnant, lactating or for children under 3.
The drinks are not a smooth consistency, they contain a jelly like pulp, which although unusual is not unpleasant.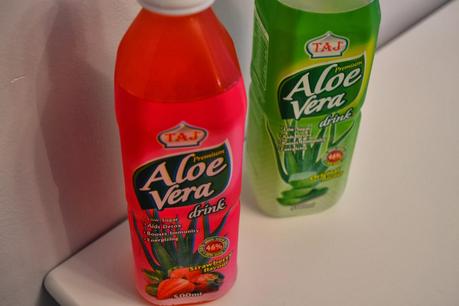 Both drinks are fruity and refreshing and make a nice change from water. I think they'd be great on a hot summer day - yeah if we ever get one!
The original flavor reminds me of some type of sweet from my childhood, but I can't remember what! My favorite was the strawberry flavour, it was sweet, refreshing and juicy.
Overall I am pretty impressed with the drinks, they're unusual and I

wouldn't hesitate buying them as a change from water.
You can check out TAJ Foods on both
Twitter
 and
Facebook
 and find out a little more on
You Tube
*I was sent two drinks to review on my blog*