Superman #0 Review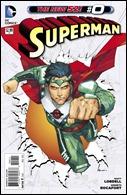 Writer: Scott Lobdell
Art: Kenneth Rocafort
Colorist: Sunny Gho
Letterer: Rob Leigh
Cover Art: Kenneth Rocafort
Editor: Eddie Berganza
Publisher: DC Comics
Cover Date: Nov 2012
Cover Price: $2.99 US
Title: "Every End has a Beginning"
 
Where's Lara?
As frustrating as it was to hear that a third creative team would be taking over Superman in a year, I did not want to set this book down once I started reading.  Scott Lobdell hit a Kryptonian home run with this issue, in which we are introduced to the New 52 Jor-El and Lara, DC's first power couple. While everyone knows the fate of the doomed planet, this story is more about who Ma and Pa El were, as a couple, and how they dealt with adversity.
The Dialogue:
Jor-El talks like a highly intelligent scientist who believes there is no right or wrong, only scientific facts and theories waiting to be proven.  Lara speaks to him with loving sternness, keeping him grounded and on task.  She holds her own in conversation with Jor-El and she really shines like never before in Kryptonian lore.  The banter between the two of them shows their level of respect for one another's strengths and that they are equal partners in their union.
 
The Art:
My only gripe is that I feel Lara should have been included on the cover given her role in the book, but that's more a creative decision.  Artistically, this is some of Kenneth Rocafort's best work.  I've really enjoyed Rocafort's work on Red Hood and the Outlaws, and creating a planet as scientifically advanced as Krypton, has shown us that his imagination is limitless.  He really does a great job giving characters their own personality through expression.  The detail he provides for the city of Kryptonopolis is nothing short of spectacular.  You can tell he really had a lot of fun world building from the inside out.  He even provides us with a glimpse of Kryptonite buried deep under the surface of the doomed planet.

Journey to the Center of Krypton
 
What I Loved:
Lara.  Given that this issue is about Superman's biological parents, we finally get a chance to see his heritage at work.  Kal-El's ability to make adjustments and think his way out of tough situations comes from his father's intellect and belief that there is always a solution.  His 'in your face, never surrender, get the job done at all costs' attitude comes from his mother.  Lara is no longer a whimpering, helpless girl who needs Jor-El to be her rock.  Instead she is her own woman and isn't afraid to speak her mind or defend herself when needed.  If DC is sticking with the Superman/Wonder Woman pairing, then we can surely see why Kal is attracted to Diana.  He wants a girl, just like the girl that married dear old dad. Also, the surprise cameo at the end.
 
What I Hated:
Morgan Freeman.  I don't know what he's doing on Krypton mentoring Jor-El… shouldn't he be building stuff for Batman? I was not a fan of the structures hovering above the surface of Krypton either.  There's talk of Krypton being a planet with such heavy gravity, that they've never been able to achieve space travel.  So how is it that they have things just floating in the sky?  Also, the epilogue felt a bit forced and more of a "oh by the way" moment. I understood its purpose, I just felt it was too little space devoted to something much bigger. Also, the surprise cameo at the end (yes, I know I loved it too).
 
Favorite (non-spoilerish) Line:
"Tonight is just about the three of us." – Lara, hinting to Jor-El that she's pregnant.  It's one of those moments that you know has to happen, and with all the implications surrounding Kal-El's arrival, it's a line that had to be carefully crafted.  I think it was done very well here.
 
In Conclusion:
If this zero issue is any indication of the things to come, Scott Lobdell is going to have a very successful run on Superman and I highly recommend this book as a great book to read.  It can stand alone on its own merits and while it's part of a bigger story, it works well within it's own cover.  If you (or anyone you know) have been hesitant to pick up a Superman title because you fear the stories will be unrelatable, this is a great introduction to the lore.  I also cannot wait to learn more about the 'how' and 'why' surprise cameo at the end of the book.
Stephen J. Mitchell has been reading comic books since the early 90's and recently has introduced his own children to the world of comics.  He feels that comic books have evolved to a place in literature where anyone should be able to read one without being stereotyped.
Credits:
Superman #0 cover courtesy of DCComics.com
Jor-El beneath the surface of Krypton image courtesy of majorspoilers.com