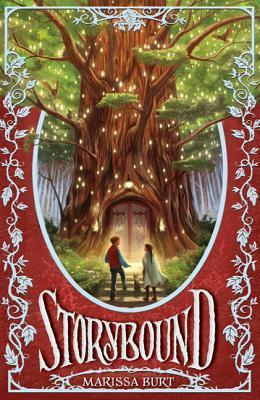 Publication: April 3, 2012
Publisher: Harper Collin's Children
Series: Storybound #1
Middle Grade
Pages: 416
Genre: Fantasy

I

n the land of Story, children go to school to learn to be characters: a perfect Hero, a trusty Sidekick, even the most dastardly Villain. They take classes on Outdoor Experiential Questing and Backstory, while adults search for full-time character work in stories written just for them.




     In our world, twelve-year-old Una Fairchild has always felt invisible. But all that changes when she stumbles upon a mysterious book buried deep in the basement of her school library, opens the cover, and suddenly finds herself transported to the magical land of Story. 




     But Story is not a perfect fairy tale. Una's new friend Peter warns her about the grave danger she could face if anyone discovers her true identity. The devious Tale Keeper watches her every move. And there are whispers of a deadly secret that seems to revolve around Una herself.... 




     With the timeless appeal of books like A Wrinkle in Time and the breathtaking action of Inkheart, Storybound has all the makings of a new classic. Brimming with fantastical creatures, magical adventure, and heart-stopping twists, Storybound will leave readers wishing they too could jump through the pages into this enchanting fairy-tale world.
*Advanced Reader's Copy provided by DAC ARC Tours for an honest review*
Diversity is my middle name, and reading a Middle Grade novel seemed like a turn in the right direction for me. Too much dystopian novels within the YA genre brought me at the doorstep of this wonderful piece of literature. I must give a big thanks to Lisa and Tara over a DAC ARC Tours for allowing me the chance to read this book because I enjoyed the magical story that Marissa Burt weaved before me.
I adore fairy tales. End of story. So I knew that I would fall in love with Storybound even before I opened up the first page, and low and behold, I did love the story. I ended up reading the first few chapters on a Sunday night, unable to sleep after picking it up. Even with school the next day I couldn't help but continue reading until the wee hours of the morning. The story was addicting, the characters adventurous and bold, the plot rich and adorable. 
The relationship between Una and Peter was cute. Peter, straight down the path of becoming a hero ends up botching his future to help save Una, a child who happened to be Written Into the world of Story, where WI (Written In for short) are abhorrent to the inhabitants of Story. To keep her a secret, Peter does all he can and I adored his adoration and determination to keep her save from harms way. There was no love at first sight, there was no instant attraction where "there eyes met and the heated sparks flew within stomachs," they're 12 or 13 years old and their meeting sparked friendship, pure and true and sweet. The strength they proved to me during their hunt flourished brightly throughout as they stuck with each other through thick and thin.
Sam and Endeavor Truepenny happened to be my utmost favorites. Sam for his adorableness, and who doesn't enjoy a talking cat? And Endeavor for his mysterious and courageous nature. If he wasn't so young I would definitely put him on a list for possible book boyfriend. 
An adventurous tale where you follow Una and Peter as they unravel the history of Story and figure out why Una actually was Written In, where you feel for the characters and watch them grow during their journey for the truth. Anyone who enjoys friendship relationships, a unique plot with twists, strong character development, and an enjoyable fairy tale that allows you to blend reminiscing memories with a inventive new tale will have their breath taken away with this novel.
First Line:
Una often told herself that she was invisible.
Story:
S
Cover:
S