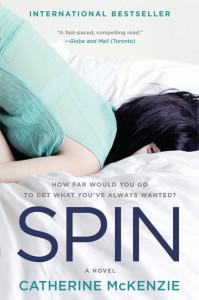 Spin: A Novel
by Catherine McKenzie
Genre: Chick Lit
Pages: 438 (Paperback)
Source: TLC Booktours
Author's Website
|
Twitter
|
Facebook
Description:
Katie Sandford has just gotten an interview at her favorite music magazine, The Line. It's the chance of a lifetime. So what does she do? Goes out to celebrate - and shows up still drunk at the interview. No surprise, she doesn't get the job, but the folks at The Line think she might be perfect for another assignment for their sister gossip rag. All Katie has to do is follow It Girl Amber Sheppard into rehab. If she can get the inside scoop (and complete the 30-day program without getting kicked out), they'll reconsider her for the job at The Line. Katie takes the job. But things get complicated when real friendships develop, a cute celebrity handler named Henry gets involved, and Katie begins to realize she may be in rehab for a reason. Katie has to make a decision -- is publishing the article worth everything she has to lose?
My Rating:

My Review:
Katie has been treading water waiting to land her dream job, but when the perfect opportunity comes along, she blows it, makes a full of herself, and starts to consider that she might have to give up on that dream.  But a second chance comes along when she agrees to spy on the newest teenage starlet in rehab.  Initially, the idea of taking notes and writing an expose seems very little to ask for a second chance, but Katie soon finds that rehab isn't as easy and she thought.  The lines between "made-up alcoholic Katie" and "real-life maybe alcoholic Katie" begin to blur. To top it off, she starts to feel bad when accidentally befriends the very person she is supposed to spy on.
This book is light fun with tons of humor.  I enjoyed following Katie through her journey.  She starts off as a 30 year-old who pretends to be a graduate student and twenty-five to a person who takes responsibility for her actions.  During the transition she finds herself forced to self-reflect and face her path.  I, along with Katie, couldn't figure it she was really an alcoholic and I liked that.  There were no easy answers.  The escapades were entertaining and the side characters were all different and captivating.  All the characters really jumped out and added more to the story.  I think it could have been a little shorter and had the same impact but that's neither here or there.
Spin
has it all.  There is a bit of romance, drama, and tons of humor.  There were moments when I questioned whether something could really happen but I quickly shrugged it off because it added to the fun.  Ultimately this is a fun, light read with a few serious moments of reflection.
I find myself liking the concept books about rehab because you get to read about diverse characters with strange backgrounds.  Is that really bad of me?  Lol.  Have you read spin?  Books about rehab?  Tell me what you think.