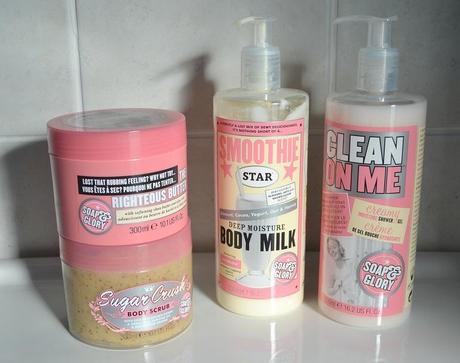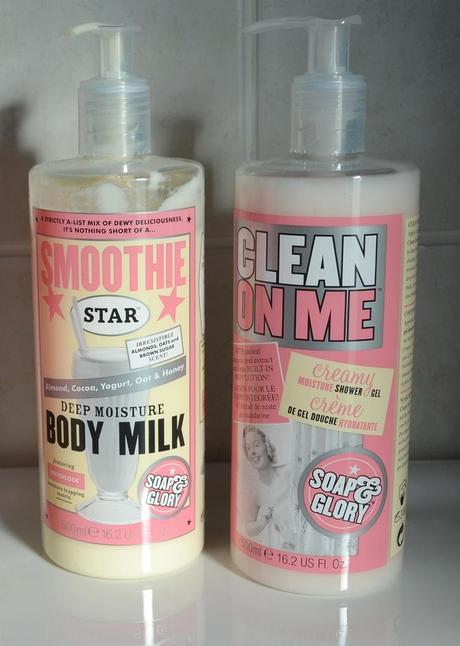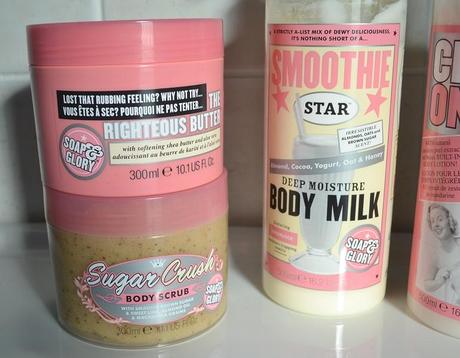 Just after Christmas I bought the Soap & Glory gift set from boots that included 9 Soap & Glory Products for £28 instead of £60. Considering the average cost for one of their body moisturisers is approximately £10 it seemed too good an offer to refuse. I was first introduced to Soap & Glory a few years ago after purchasing their Mist You Madly Floral Body Spray (which I'm still using now). It's a lovely light misting spray which I use on a daily basis. If you like sweet smelling floral scents then this is a cheap alternative to wearing perfume. I have tried several products from their hand care range, to moisturisers. This post features my current regime from showering to moisturising.
The Righteous Butter Body Butter £10.50
Last week I started using the Soap and Glory Righteous Body Butter after showering. The formula is for very dry skin which is perfect to use over the winter months. Simply apply this to damp skin after showering so that your skin can absorb all the goodness, as opposed to just being applied to the surface. The butter itself is really light and creamy and rubs in really well. The softening shea butter and aloe vera give the butter a richness and fresh and clean scent. My skin type is normal to combination so you may wonder why I have been using this. Over the winter my skin tends to get quite dry and dehydrated, it's bitterly cold outside, indoors its warm, and in the evening you can't wait to plunge yourself into a deep hot bath. This transition to such different temperatures isn't good for your skin hence why it dries out so much during this time of year. This butter is good for tackling very dry skin, leaving it feeling supple, soft and most importantly hydrated. As the warmer months approach I will stick with the Deep Moisture Body Milk.
Sugar Crush Body Scrub £8.00
The sugar crush body scrub has gone right to the top of my list for favorite all over body scrub/exfoliator. This scrub includes smashed brown sugar and sweet lime, almond oil and macadamia grains. Anything that includes almond oil in my books is bound to be a gooden. This is applied in the shower, as many times a week, depending on the dryness of your skin. Be generous with the amount you apply and make sure you really work it in. Switch off the shower for a bit to enhance the scrub. After rinsing it off your skin should be left feeling silky smooth. This lime scent gives it a real zesty freshness, mellowed down by the almond oil. The sugar and macadamia grains provide it with just the right consistency for the perfect scrub. If there is ever such a thing. I'm saying this because some scrubs can be too harsh on the skin, but this is the perfect texture to zap dry flaky skin, leaving your skin deeply cleansed and moisturised.
Smoothie Star Deep Moisture Body Milk £10.00
The deep moisture body milk is my all-time favorite Soap & Glory product and one of my favorite body moisturisers. Simply apply this from shoulders-to-toe straight after your morning shower. The easy-to-use pump allows for a mess-free application, and is packaged to last you a while. This scent is incredible. A combination of almond, cocoa, yogurt, oat and honey smells almost good enough to eat. If I had to describe the scent in four words it would only be described as a combination of 'sweet popcorn & mini-eggs'. You know that warm sweet smell you get at the cinema from the popcorn machine. This product smells just like it. The texture of the cream itself is again quite light but a little more luxurious with the addition of cocoa butter and coconut oil. Soap & Glory describe this product as 'loaded with skin-softening' ingredients. It also features the Soap & Glory Waterlock Moisture Trapping Matrix to help condition and nourish your skin. I love milk-based moisturisers as it seems to make them super rich and creamy. I highly recommend this product and can't rave about it enough. It works wonders! Soap & Glory recommend this paired with Rich & Foamous and The Breakfast Scrub for the perfect morning regime.
Clean On Me Creamy Clarifying Shower Gel £5.50
This product smells just as good as the Smoothie Star deep Moisture Body Milk. Simply use this in the shower after you have applied your scrub. Just shut off the shower and apply to damp skin. This product rubs into a thick luxuorious lather to ensure a deep, and nourishing cleanse. The built in natural mandarin peel extract give it a sweet fruity scent and a bonus built-in body lotion which gives it the creamy richness to ensure your skin is left feeling super soft and hydrated. Again the pump is easy-to-use in the shower, particularly when your in a hurry.  All the products compliment one another well, without a clashing of scents. I really liked the feel and the scent of this product, not to mention the condition of my skin after. I used the body scrub followed by the clarifying shower gel, and then the deep moisture body milk.
I'd like to try The Breakfast Scrub as I've heard some good reviews, the No Clogs Allowed Super Self Heating Deep Cleansing Face Mask, the Butter Yourself Body Lotion and A Great Kisser Vanilla Bean Lip Balm.
Have you tried any Soap & Glory products? What are your favourites? What would you recommend?