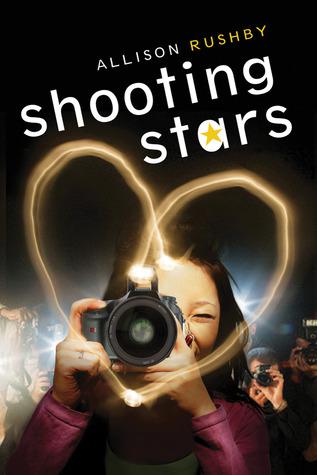 Publication: February 28, 2012
Publisher: Walker Childrens
Stand Alone Novel
Young Adult
Pages: 272
Genre: Chick Lit, Contemporary, Realistic Fiction, Romance
Meet Josephine Foster, or Zo Jo as she's called in the biz. The best pint-sized photographer of them all, Jo doesn't mind doing what it takes to get that perfect shot, until she's sent on an undercover assignment to shoot Ned Hartnett—teen superstar and the only celebrity who's ever been kind to her—at an exclusive rehabilitation retreat in Boston. The money will be enough to pay for Jo's dream: real photography classes, and maybe even quitting her paparazzi gig for good. Everyone wants to know what Ned's in for. But Jo certainly doesn't know what she's in for: falling in love with Ned was never supposed to be part of her assignment.
*Galley provided for an honest review*
I so love a book with a good Asian main character and Shooting Stars brings Zo Jo out in a cute adorable way. When I read the synopsis for this novel, the idea about paparazzi sounded extremely interesting as well as unique for YA. More or less, I did enjoy this story but it didn't blow me away.
Zo Jo has been a paparazzo from a very young age and at the age of sixteen she can still be considered a young child from her young appearance and the fact that certain outfits and styles can mask her actual age. This helps make her job easier, for when the security is tight in situations, Josephine can manipulate her way into certain Hollywood hot-spots as well as get the certain shots she needs. When Ned Hartnett, a celebrity around her age having Jo's swoon radar commence, has rumors spread faster than a gasoline started fire, Jo is offered a job of a lifetime with a hefty 50,000 reward for her efforts. Morals and obligations begin to brawl against each other inside her head.
The plot of the book was simple, cute, definitely something worthy of Nickelodeon, Disney Channel, or ABC Family. But Jo happened to have some characteristics that irked me. The constant rambling of "This is wrong," "I shouldn't be doing this" thoughts that articulated through out her head made Jo a fairly weak character in my mind. Like most paparazzi, the money becomes the object of worship and Jo had taken that into account. 
The writing style was simple, a book like this would definitely be marketed for a younger target audience but if you're looking for a simple but cute book to lift your spirits then Shooting Stars could be something for you.  
First Line: 
I crouch behind some thick green shrubbery to do my final check.
Story:
A
Cover:
B