I kept passing this stuff whenever I was at Target, because I remember the old Shea Moisture brand, (remember the ones in the white bottles with the red and green lettering?) and they were chock full of icky ingredients. Then one day someone asked me had I tried their reformulated shampoo and I got curious. I'd already tried their Deep Treatment Masque, and I really like it. So I thought I'd check the shampoo out for you guys. Here's my review: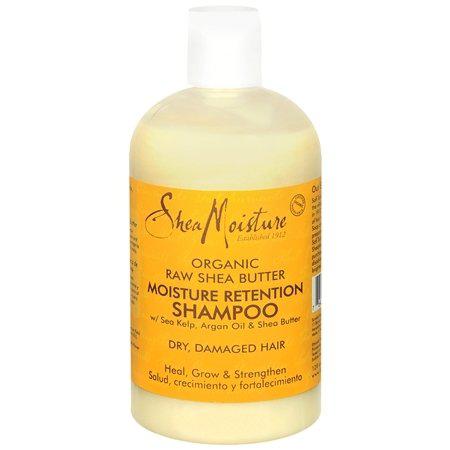 Shea Moisture Organic Raw Shea Butter Moisture Retention Shampoo (12 oz.) $9.99
Ingredients: De-ionized water, Decyl Glucoside (sugar beets), African Butyrospermum Parkii (Shea butter) (denotes certified organic ingredients), aloe vera leaf juice, Argan Oil, Panthenol (pro-vitamin B-5, rosemary extract, sea kelp extract, vitamin E, Lonicera Caprifolium (honeysuckle) flower and Lonicera Japonica (Japanese honeysuckle) flower extract.
Ok so, I separated my hair into sections and washed each section with this stuff, concentrating mostly on my scalp and well wow. First of all, a little goes a long way. It really
suds up! Which made me nervous enough to re-read the ingredients like 5 times to make sure that it didn't have any sulfates in it.
It doesn't.
I really judge shampoos by how well they clean my scalp, because I don't really put much on my hair when I use them. (Unless I'm rinsing out some crazy product I've tried). I use my conditioner for that. This product really got my scalp clean on the first try! I also don't believe in shampooing more than once.(I read somewhere, that that's just a manufacturer's claim to get you use up more of the product more quickly). It was extremely emollient with a lot of slip. So much, in fact, that I was able to finger detangle the section BEFORE I used my Trader Joe's Condish and detangling comb to finish the job!.
On top of that, my skin felt great! In fact, I've used this shampoo as a body wash a couple of times, I love the scent and the shea butter really softens my skin. I even squirt a little on my pumice stone at the end of a shower to scrub at my heels and elbows. Nice!
RATING: 5 Savvy!* – Great product, great ingredients, great price, multi-use!
You can find this product in bulk at the Savvy Shop