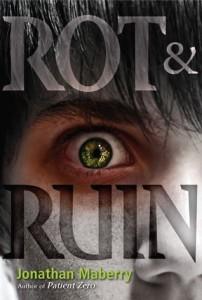 In honor of our October's Months Of Macabre and zombie week, I picked up Rot and Ruin. It seemed pretty promising, with super high ratings on Amazon and Goodreads…so maybe I just missed what everyone else saw. Here's your background:
In the zombie-infested, post-apocalyptic America where Benny Imura lives, every teenager must find a job by the time they turn fifteen or get their rations cut in half. Benny doesn't want to apprentice as a zombie hunter with his boring older brother Tom, but he has no choice. He expects a tedious job whacking zoms for cash, but what he gets is a vocation that will teach him what it means to be human.
Maybe its because I went into it with super high expectations, but I was really disappointed. I think there were a few factors that went into my lack of "feels". (The bloggers at Appraising Pages, all agree that we never want to tear apart any books. Even if I'm not a fan, it doesn't validate book bashing. So, I'll be honest.. but repectful.)
First off, I think that the book is very intended for younger readers. Now, before you you starting freaking out, yes I know its a YA book. I read YA genre all the time and I'm still interested in whats going on. I felt like the writing was just simple and that caused my mind to wander while I was reading… like right out of the story.
Side note: Once in Jr. High, a friend of mine was trying to read at lunch and she just keep reading the first page each day because she couldn't concentrate, I obviously made fun of her, because she looked so funny…reading the same book for a month and never getting passed the first page. Also, she would get all flustered and yell us us all to stop talking, because lunch clearly isn't for socializing.
So, I suppose this was pay back for me. I just couldn't finish it.  The story had some great imaginative qualities, and I am sure it has high ratings for a reason, I just didn't connect with Benny. Also, theres little to no romantic aspects. I  just need a little bit of love to fuel some drama, I need a romance to root for.
I can't say that I would recommend Rot and Ruin, but a lot of other people do. I think my review is very much MY point of view. The writing is good and creative, this is a very successful series, so if you don't have a preference for romance, I would say to check it out. You can download the sample, see if it catches your interest.
Purchase Rot and Ruin on Amazon!
You May Also Enjoy:
Review Mash Up: The Walking Dead, Graphic Novels, T.V. Show, & HHN Maze
It's Zombie Week! Let's Celebrate With a Giveaway!
The Walking Dead Season 3
It's A Zombie Weekend! World War Z Feature by Jay
Review: Warm Bodies
Horror Novel Feature: "The Twelve" by Justin Cronin
Kick off for Octobers Month of the Macabre
World War Z Party Planning Guide