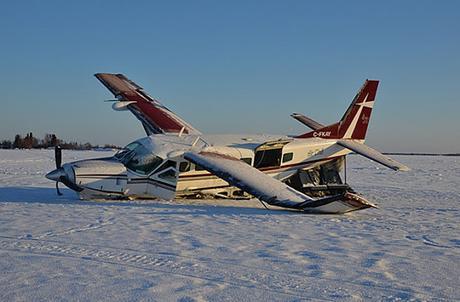 Procedures for Exiting Severe Icing
Here in the Northern Hemisphere ground temperatures are dropping below freezing fast. So I thought that now would be a good time for us Caravan Pilots to review Emergency Procedures in the icing environment.
Please remember that these Emergency Procedures found below are for the Cessna Model 208B (675 SHP) and no others. If you are flying a different model Caravan, please review your aircraft's FAA approved Abbreviated Checklist or Airplane Flight Manual for that specific model.
As stated in the Pilots' Abbreviated Checklist published by Cessna:  
Procedures for Exiting the Severe Icing Environment (As required by AD 96-09-15)
1. Immediately request priority handling from Air Traffic Control to facilitate a route or an altitude change to exit the severe icing conditions in order to avoid extended exposure to flight conditions more severe than those for which the airplane has been certificated.
2. Avoid abrupt and excessive maneuvering that may exacerbate control difficulties.
3. Do not engage the autopilot.
4. If the autopilot is engaged, hold the control wheel firmly and disengage the autopilot.
5. If an unusual roll response or uncommanded roll control movement is observed, reduce the angle of attack.
6. If the flaps are extended, do not retract them until the airframe is clear of ice.
7. Report these weather conditions to Air Traffic Control.
If you are a Caravan pilot, I highly recommend that you complete some of Cessna's E-Learning courses on this topic. Courses such as "Caravan Cold Weather Ops" and "Caravan Vodcast Ground Icing Conditions". There are many other interesting courses available, most of which are free and are all available at 
cessnaelearning.com
My fellow Caravan Pilots, please
remember to
Review Often, Fly Safe
so that you can continue to
Have Fun
!
- CaravanSpecialists.com