Last week, I posted about some of my ideas for Isabelle's birthday party - it's now only 6 weeks to go until she turns 1! I didn't mention anything about gifts though, and obviously presents are a huge part of any birthday - and I always think it's especially important that 1st birthday presents are extra special. Both when thinking about what to get Isabelle, and thinking about what presents to buy for other babies for their 1st birthday, I always want to think up something which is a bit more than the average gift that you can lift of the shelves.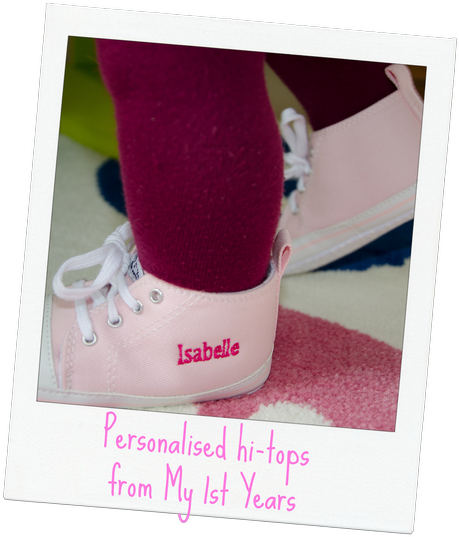 Enter My 1st Years. This website is dedicated to bringing you baby gifts which are just that little bit more special than everyday gifts, as they can be totally personalised for your little person, making the gift you give as special as the little person you are giving it to. There is a huge selection to choose from, including baby clothes, christening gifts and baby shower gifts - all of which can be personalised to make them that little bit extra special.
In my search for some perfect 1st birthday gifts for Isabelle, My 1st Years very kindly offered to send us some personalised baby shoes, and we received some very cute pink hi-tops with 'Isabelle' on each shoe. You can personalise the little shoes with up to 10 characters, and there was some debate about what we should get, but we eventually decided to go with just her name.
When the shoes arrived, they came in the most beautiful box, and were wrapped in tissue paper. So, not only do you get a beautiful gift, but you don't have to wrap it either! The presentation is really beautiful, and would definitely please any parent if you handed them this little turquoise box for their baby's birthday.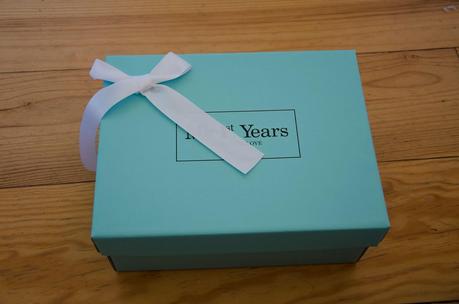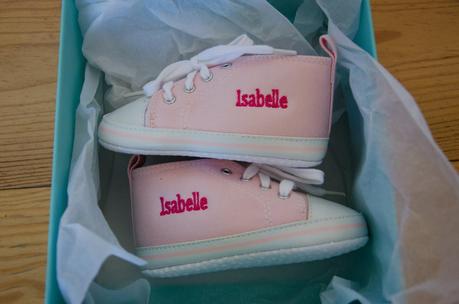 Inside were the sweetest little shoes, baby pink with beautifully stitched personalisation on each shoe. I couldn't wait to get them on to Isabelle as I knew she'd look gorgeous in them! While standing and walking are her favorite thing to do at the minute, since she can't walk unaided she is still classed as a 'pre-walker', and the fact that these hi-tops have soft soles makes them perfect for her wear now. Isabelle has tiny feet (not something she inherited from me!) so the shoes are still slightly too big for her, but the laces on them meant I could tie them nice and tightly, so they weren't going to fall off or be uncomfortable for her while she wore them. There are little spotty grips on the bottom so the hi-tops are great to help her while she toddles about, keeping her from slipping over when she gets distracted. 
Overall, these little hi-tops are absolutely gorgeous, and although Isabelle has already seen them, they will make a great birthday present for her! Imagine how lovely it would be to order a pair for a baby you know - what a special and personal gift they would be. And imagine how thoughtful you would look to the parents of any baby if you turned up with such a unique gift!
I highly recommend you take a little look over at My 1st Years if you are searching for a special gift for a little person in your life. No matter what the occasion, they have something to help you out, and they have certainly given us something extra special for Isabelle's very first birthday.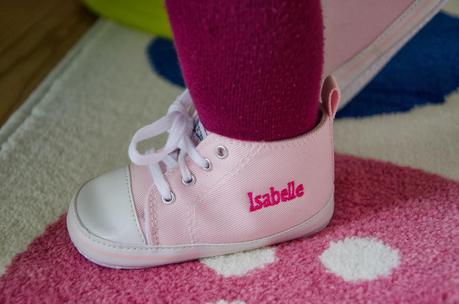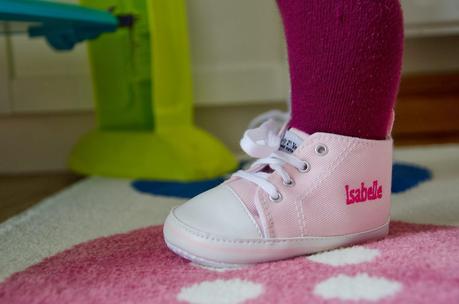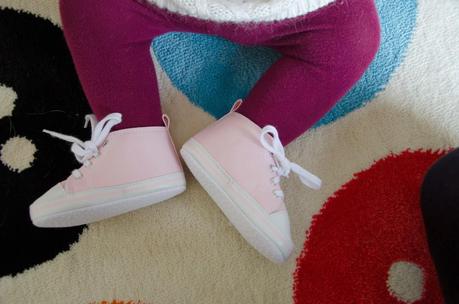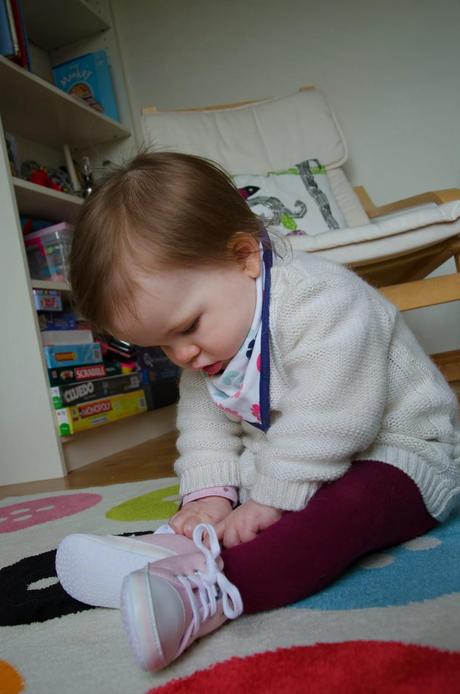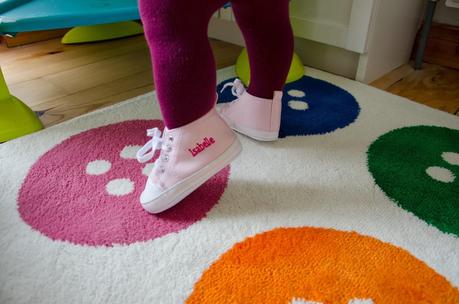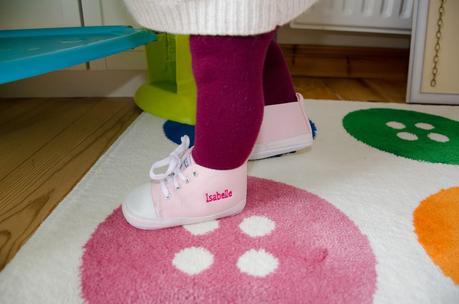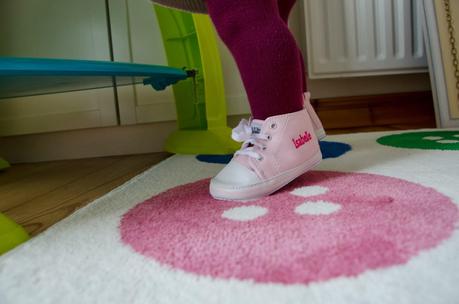 Don't forget to enter my competition to win £60 worth of Ecoegg products!