Fall was always my favorite season.  From the pumpkin pies to the apple picking to the baking, it encompassed everything that I loved.
But one of my favorite things was turning around from the grill, and beginning to go back to home made meals cooked right out of the oven.  I loved those casseroles, lasagnas, chicken bakes and more.
So when Progresso (A Minnesota Company) approached me to review their new recipe starters I couldn't wait to try them out.
Think Pre-Made Sauces in a can ready for you to use within great home cooked meals!  This was totally up my alley, and reminded me of those fall days back in Minnesota when we cooked these warmer meals to warm up what was cooling down outside.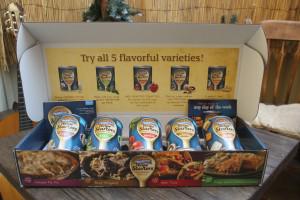 When I first received my package I was so impressed with the box it came in.  They even gave me a wooden spoon with it which I have utilized with every recipe I've made with these.
They come in 5 different varieties:
Creamy Roasted Garlic with Chicken Stock
Fire Roasted Tomato
Creamy Parmesan Basil
Creamy Portobella Mushroom
Creamy Three Cheese
On the back of each can there is a recipe in which you can utilize the recipe starter with.  For most recipes you only need a couple more ingredients to create that meal.  But because they are recipe starters, there really needs to be ingredients added to them.  The sauces have a very subtle taste to them, so they need those extra ingredients.
Progresso has created 80 different recipes utilizing these recipe starter cooking sauces.  Each can comes with their own recipe as well as a QR code unlocking 30 more recipe ideas.  All the recipes are listed on www.progresso.com.
And now the fun we had creating our recipes: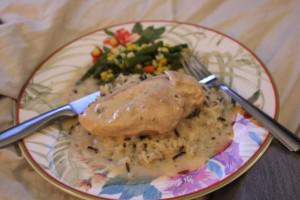 For the first meal we created (my SO made this!) we decided on infusing chicken in with the sauce and topping it with rice.  It was a GREAT meal, and the sauce added a lot of substance to the meal.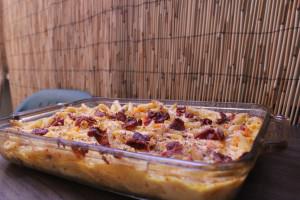 For the second meal I decided to try out one of the Progresso Recipes with their Bacon Mac n' Cheese.  This utilized the Three Cheese Sauce mixed with bacon, penne pasta, bell pepper, and shredded sharp cheese.  And this is being added to my recipe list!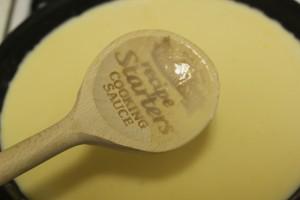 And the third recipe we created was with the Creamy Parmesan Basil recipe starter.  We just combined garlic, salt, and butter to the sauce to make it the topping of our pasta that evening, and I must say I went back for second helpings!
There's still two more cans we have left to utilize, but ideas are already in my head with what to do with them.  I must say I'm very happy with these recipe starters, it gave me a new way of thinking in the kitchen, and gave us some new recipes to add to our collection.
My SO's thoughts on them:  At 40 I have a lot of experience with cooking in the kitchen, however, I never really mastered the sauce element, so I really enjoyed these recipe starters because it allowed me to bring sauces into the kitchen.
We highly recommend these Progresso Recipe Starters for your fall and winter cooking up ahead.  Have you tried them yet, what are your thoughts?
Disclosure: I was provided with samples of the Progresso Recipe Starters to try out.  We are very happy with the product and are happy to recommend it.  All thoughts are our own.