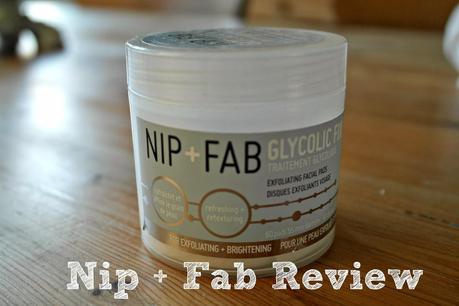 I worry about my skin on a daily basis.  Each morning I wake up wondering what nature has planted on my face and often enough I'll have red marks or spots dominating my chin! Unfortunately I'm cursed with PCOS... meaning I get outbreaks constantly and feel I'm in an ongoing tug of war with my skin.  
I can be quite lazy with facial products because if I find one that works, I tend to discover it's merely a honeymoon period and after a while they seize to help so I give up.  I use whatever is on the shelf from standard face wash to an exfoliating face wash and that's about it, so when I picked up a Nib + Fab product at fashion week I was eager to try it out.  
I'd heard of Nip+ Fab before when browsing the aisles in Boots but I'd never thought to try it,  the main thing that put me off was the packaging as that for some reason even though it looks clean and fresh, in my experience products that look like that can often irritate my skin (oh should of pointed out I have sensitive skin too).
I use face wash and a standard face wipes but absolutely adore anything that is exfoliating.  Using anything exfoliating leaves skin feeling fresh and smooth but only used in moderation as it can clean the skin of natural goodness.  I was very excited to give the Nip + Fab exfoliating pads a try as I'd only ever used exfoliating face washes so this was going to be a new experience.
What's in it?
I always like to have some idea about what I'm putting on my skin because of how it reacts, so I did some investigating into what was what. 
What do they do?
Glycolic Acid - It deeply targets the skin so that it encourages fixing fine lines, acne, breakouts, dullness and oily skin. It reduces blocked pores, blackheads and of course cleans the skin! Hyaluronic Acid - Is the key ingriedent to youthful skin by maintaining water in the skin cells. 

Blue Daisy - The magic stuff that soothes and calms the skin (basically stops skin from having a paddy!) The Look, Feel and Smell The product comes in screw lid tub which contains 60 slim pads that have a smooth side and a textured side as well, which of course the textured side is for the exfoliating. They are light and moist without being too heavy or overpowering.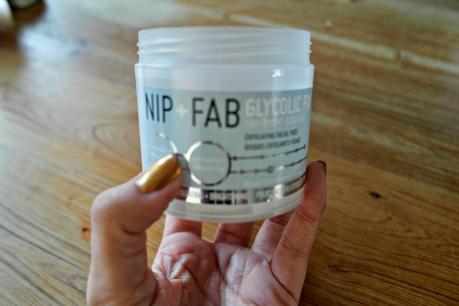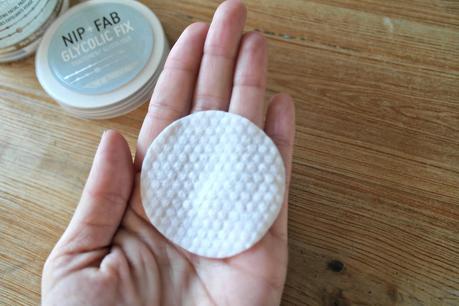 Initially I was worried that because the packaging made me think it was a chemically dominating product, the smell however wasn't at all and infact it is really light and refreshing... almost a grapefruit zest to the smell meaning it's perfect for first thing in the morning!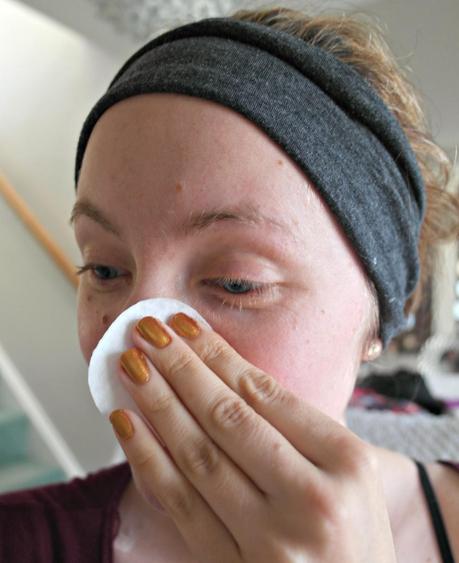 The little pads are soaked in glycolic and hyaluronic acid which are both key ingredients to replenshing, resurfacing, moisturising and retexturing the skin.  I wasn't sure initially how I was going to get on with it but after I'd used it a few times I honestly noticed a change in my skin. Firstly I was shocked that how washing alone didn't clean my skin as much as I'd thought... proof appeared to be what was on the pad afterwards! Also my skin felt smooth, moisturized, very clean and not at all blotchy from any irritation.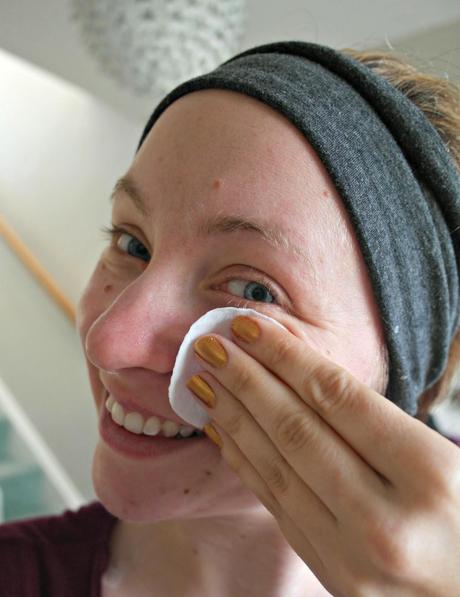 The Results
I am honestly quite surprised how I became hooked to using these pads! There is 4% glycolic acid in this Nip + Fab Glycolic Exfoliating Face Pad product which apparently is a decent amount for the price, ( £12.95) when other products that contain only a touch more are significantly more expensive.  I will 100% be purchasing this again as I feel my skin has cleared up with my constant breakouts and left it really smooth.  
Have you tried Nip + Fab products before? 

xoxo