Back in February of this year when I decided to use some credit card points towards a new fitness tracker, I was actually looking to get the FitBit. However, after it was reportedly giving people chemical burns, I decided against it and went with the next highest rated tracker within my price range, the MisFit Shine. This review focuses on the Shine and the related free iPhone app ver. 1.13.2. (warning: this post is pic heavy)
MisFit Shine Activity Tracker ($88-$100)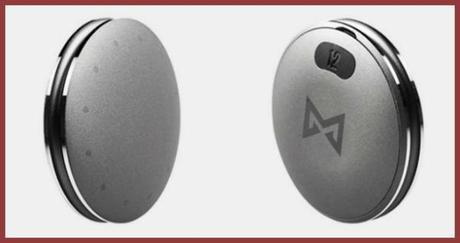 What it Is
The Shine is actually a little disc (about the size of a quarter) that can be worn to track movements, sleep, weight and time. It keeps the data stored locally and works in conjunction with the Shine app available for iPhone (4s or higher). It is waterproof and can be worn in the shower or swimming. And of the trackers that I looked at, is definitely the best looking of the bunch.
What It Does
Basically, the Misfit Shine does four things:
Monitors movement and encourages you to set goals in order to become more active
Tracks your sleep habits and encourages you to get more rest.
Allows you to track your weight loss.*
It's also a watch!
*This item is new with the latest update
How It Works
The Shine syncs automatically whenever you open the app on your phone. (Yes, you can also sync it by taking the device off and placing it on the screen of your phone with the app open, but it's not necessary past the initial sync). If you are somewhere without wireless service, the device stores all of your info until you can get a signal and connect with your phone again. Shine tracks movement by points. About 10,000 basic walking steps is equivalent to about 1000 points (based on my usage). You tell it how many points you want as your daily goal and it tracks your movements that can be read on the device or on the app to let you know how close to your goal you are.
Fitness Tracking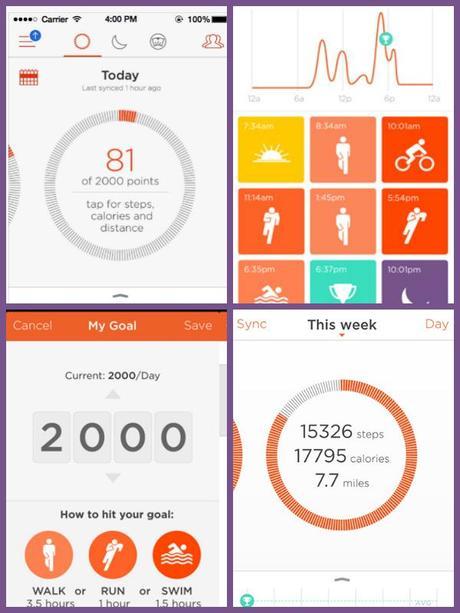 At it's most basic, the Shine is a pedometer and the fitness tracker's default setting is for walking. You can change it to Cycling, Swimming, Basketball or Soccer, either manually, through the phone app or by switching to Fitness Tracker mode by tapping the face of the device three times quickly. The app automatically updates throughout the day to tell you where you are and how close you are to hitting your goal. It will light up in succession around the face to show you where you are at any time. The more lights, the closer you are to your goal! You can also connect to the Shine community through the leaderboard on the app, where you can post your scores and achievements with the reest of the Shine community. (I have not done this. But I'm weird about sharing stuff like that).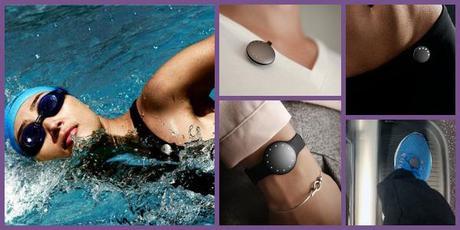 I've noticed that wearing it in different places will track movements better. In fact, you can select in the app where you would like to wear it, and the app will also make suggestions for placement for certain activities. When using a stationary bike, for instance, I clip it right to my shoelaces, but they say for swimming you should clip it to your waist or at the neckline for better accuracy. I've also put it on my waist for walking. But I tend to just keep it attached to the back of my wrist or on my shoe. (There's also a lariat that you can purchase for the device, but I can't see being able to do more than walk with that).
Sleep Tracker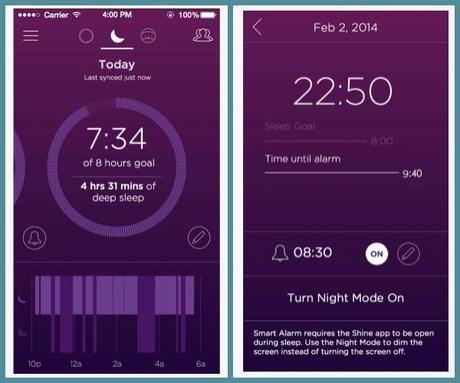 The Shine has been able to track sleeping for awhile, but this new update is pretty cool. There is a whole sleep mode that has an alarm and everything. Somehow it tracks how you sleep and how deep you sleep. I admit, this part really impresses me. It knows the difference between me lying on the couch reading and lying in the same position sleeping. I will admit, I think the Sleep Time App does a smoother job of waking me up, but the phone has to stay on the bed with me all night. With Shine, you can put your phone on a nightstand or just nearby as long as it's within 3 feet of the device. It gives you a readout in the AM of the hours total that you slept as well as how many of those hours were actually spent in deep sleep. The idea is that in deep sleep both your body and brain recover and without it you are more prone to disease and weight gain. For more on the science and benefits of deep sleep read this. For more on lack of sleep and weight gain. Check this out.
Weight Tracker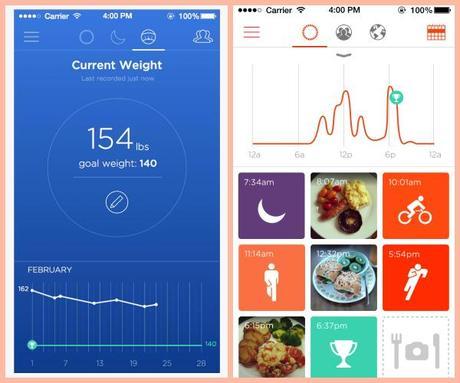 This is the newest addition to the app, and it's pretty handy. Instead of having to use another app to actually track the pounds, you can now log them in the app itself. There is no way to do this on the device however, it must be handled at app level. There also really isn't a way to track your food or calories outside of taking a picture of your meal. Which will be saved at the date and time which you ate it.

Telling Time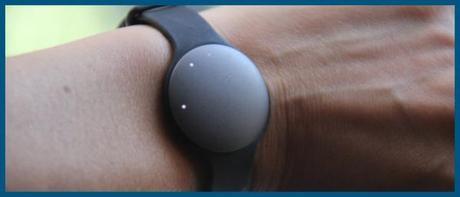 Ok, I will admit, this takes a bit getting used to. The most important thing to do if you're going to wear the device as a watch is to make sure that the little "12" on the back of the device is point up or "due North". (Because there are no numbers on the face, if you don't do this you could get the time wrong!) If you tap the face of the device twice,* it will first light up at the 12, 3, 6, and 9 positions so that you know it's in "Watch" mode. Then a light will first appear at the current hour, and second light will blink where the minute hand would be. There are only 12 light positions on the face, so it only tell time in 5 minute increments. Which is fine for the casual time check for me.
What I Really Think
The Misfit is designed to keep you motivated and track your progress on a more basic level. I find that with the Shine I've not just carved out more time to exercise but I'm moving more in general by breaking up mini workouts throughout the day in order to reach my daily goal. Getting off one subway stop early for a longer walk. Parking the car farther away. Doing yardwork or cleaning the house early in the morning on the weekend instead of watching TV.  (All stuff we know, but it's fun to look at the device at the end of the day and have that little happy circle of lights blinking at you alerting you that you've reached your daily goal.)
Honestly, I like it.
This is a really good fitness tracker for the rest of us. It looks good, comes in a variety of colors, is low profile and sturdy, (trust me one this, I've dropped it and even stepped on it a few times!) and easy to use. I want to lose some weight but I'm not going to be trying out for Crossfit any time soon.  (Look, my current goal is to walk without the use of a cane, so yeah, reality check.)  It has definitely helped me sleep better. Unless you are completely sedentary and don't exercise or move much at all, the Shine alone will not make you lose weight. I personally didn't see any changes on the scale until I cut a few calories, but my clothes did fit loser even when the scale wasn't moving. The only gripes I have are that I wish it had more activities, (i.e.- elliptical, calisthenics, etc.), it will still track movement, but it gives more detailed data with exercises it understands (i.e.- swimming, cycling, running). I also think that there should be a way to link to a web-based desktop app for those people who don't have an iPhone. I still think that it is worth it for the money if you are looking to improve your fitness and look cool while doing it. It's not the most expensive device on the market, and it comes with a ton of support for the app and every update has gotten better and better.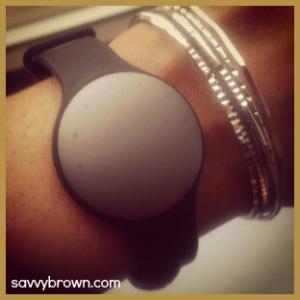 RATING: 5 Smart!* – Good product, a little pricey but multi-use, not available on all apps, and can help you get/stay fit!
You can find the MisFit Shine here.
*Savvy Ratings: 5=Savvy 4=Smart 3=Suitable 2=Satisfactory 1=Stupid
Disclaimer: I was not compensated in anyway by Misfit Wearbles or Apple Products. All image credits (except for that last one, that's me) belong to Misfit Wearables.
MisFit Shine Wearables website
iPhone app