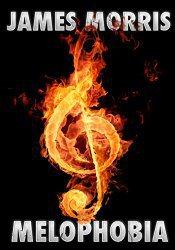 Melophobia by James MorrisAuthor Website
Amazon (UK)
Amazon.com
I was given a free copy by the author in exchange for a review.
Kindle Press (ebook), 2015265 Pages
BLURB
Melophobia: fear or hatred of music.
The time-now; the place-America, but in a world where the government controls all forms of art and creativity. Any music sowing the seeds of anarchy is banned-destroyed if found-its creators and listeners harshly punished.

Merrin Pierce works as an undercover Patrol officer assigned to apprehend a fugitive musician who threatens the safe fabric of society, only to confront everything she thought to be true - her values, upbringing, job, and future.
Can love survive in a world without music?
OPENING SENTENCE
He stood outside, his hand lifted to bang on the door, when he hesitated for reasons he couldn't name.
REVIEW
I loved Melophobia. The novel reminds me a lot of Ray Bradbury's, Fahrenheit 451 which I also love. I loved the disturbing and often bleak world occupied by Merrin, Rowan, Val and Anders. My idea of hell is a world without books which is why Bradbury's novel affects me so much. I love music and a world without it, where creativity is seen as a dangerous perversion chills me to the bone. I thought Merrin was a great character. She was very real and the confusion caused by her own attraction to forbidden music and her duty as a Patrol Officer was painfully believable. The final quarter of the novel starts to get pretty dark as Merrin's world crumbles around her. In one harrowing, gut-wrenching scene Merrin finds her mother, a music lover who was sectioned sixteen years ago to Level Five, a hopeless case, corrupted by music and beyond help, lying in a bed, withered and wasted. My heart was in my throat. Melophobia blew me away. I'd highly recommend it. One of my top reads of 2015.