Jeihan Angga's full-feature directorial debut, Mekah I'm Coming, is a deadpan rom-com rooted from several social commentaries about the obsession towards Hajj, Muslim's sacred pilgrimage to Mecca. Rizky Nazar and Michelle Ziudith portray the rom-com couple whose love is tested in the midst of the shenanigans. Through their love ordeals, the narrative brings honest, straightforward, and, sometimes, harsh commentaries about the rural Muslim community and the flaws in the travel industry capitalizing the pilgrimage.
To put a context to the whole write-up, here's a little summary of the movie's socio-cultural subtexts. As a country with the largest Muslim population in the world, Indonesia—located further away from the epicenter of the Muslim world—has quite a distinct socio-cultural practice in regards to the religion's sacred pilgrimage practice. The system of Hajj is regulated by the Ministry of Religious Affairs with only certain numbers of pilgrim candidates are allowed to depart every year. This makes the Hajj often dubbed as the ultimate pillar among other Pillars of Islam; not only that it costs a lot, but also the complication that precedes it only further establishing it as a luxury privilege. Several rural Muslim communities take it as an opportunity to upgrade someone's social status, and some other capitalizes the process of Hajj and even does a foul-play in operating it.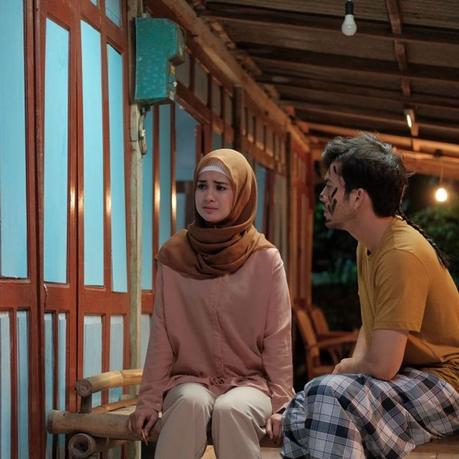 Michelle Ziudith and Rizky Nazar as Eni and Eddy in
Mekah I'm Coming
(2020)
Departing from such mappings, Mekah I'm Coming narrates the love story of Eddy (Nazar) and Eni (Ziudith). The former is a failed mechanic who might have been a cousin of Midas. While confident of his mechanic skills, he keeps breaking vehicles that have been gotten into his care. Only his mother's reputation as a Hajjah (portrayed by the late Ria Irawan) which could salvage him from being a social pariah. Meanwhile, the latter is a religious singer whose father (Totos Rasiti) has just returned from the pilgrimage and treated like a war hero by the neighbors. Their love is tested when the village's notorious loan shark, Pietoyo (Dwi Sasono, recently in Dua Garis Biru), attempts to propose Eni against her will. Aside from constant rejection towards Eddy for his no-future lifestyle, Eni's father also has a huge load of debt to Pietoyo, which makes the odds are against the couple. In such a desperate moment, Eddy has the epiphany—if he's gone into the sacred pilgrimage, his chance to win Eni over might be bigger—and so he begins his quest for pilgrimage.
The conflict, while seems implausible, surprisingly hits close to home, especially in rural areas. Romance may end without parent's blessings, and such a blessing might really depend on the parents' situations—whether social, cultural, or economical. The bigger conflict, pointing out the Hajj scams, is also relevant to Indonesian people. Such kinds of a consumer-capitalist model of religious travels make way for scammers to step in and take advantage of rural people's naivety for their own benefits. While the conflicts seem serious, Jeihan Angga's direction takes mostly comical approaches to nudge them; therefore, the execution might sometimes feel cringe-worthy due to this treatment.
The romance part is always an effortless element. Nazar and Ziudith harmonize effortlessly with warm chemistry even at their campiest moments. Nazar's performance is a big leap, making his character a sympathetic one. The comedy part, on the other hand, is the trickiest part. Jeihan Angga's script often incorporates oddball jokes which can go all the way to its absurd breaking point. For instance, there's a peculiar telepathic banter exchange between Eni and her father; this event would make a callback at the end of the movie, which somehow feels like a deus-ex-machina moment.
The third act of Mekah I'm Coming feels a little hasty and cut short; but, the decision might be necessary to avoid prolonged epilogue. It gives a bold closure for this deadpan romcom even with its absurdity and campiness, which surprisingly hits hard with easy laughs and cheap puns

?.?
Mekah I'm Coming (2020)
1h 33min | Comedy | 5 March 2020 (Indonesia)
Director: Jeihan Angga
Writers: Jeihan Angga
Stars: Rizky Nazar, Michelle Ziudith, Jennifer Coppen
Summary: Loving each other, Eddy, village workshop business owner, and Eni Michelle Ziudith may need to end their relationships because of Eni's father's disapproval and wanting to marry her ... See full summary »
Countries: Indonesia
Languages: Indonesian
Source: imdb.com
Disclaimer: This plugin has been coded to automatically quote data from imdb.com. Not available for any other purpose. All showing data have a link to imdb.com. The user is responsible for any other use or change codes.