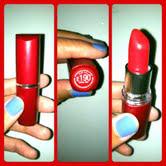 Red lipstick is really popular right now but it is not the easiest thing to shop for. It can be a little expensive for a mom on a budget so I am going to tell you about my favorite red lipstick that I got for under $5.00!
I have always had issues with red lipstick because either it cost more than I am willing to spend (by now you should know that I'm obsessed with bargains) or it stains really bad. Maybelline Moisture Extreme Lipstick, Royal Red #190 is my favorite! It wipes off so easy with no staining! The lipstick is shiny, hydrating and long lasting. It is a very flattering shade of cherry red
. 
Another thing I love about it is the smell, it has a fruity smell which is great because some lipsticks have a very odd smell/taste. Next time you get a chance to go out I highly recommend trying this lipstick for a major self-esteem boost, I feel really good when I wear this!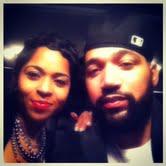 Me wearing  Maybelline Moisture Extreme Lipstick, Royal Red #190