Read Time:
3 Minute, 34 Second
With a grand sequence, Mangkujiwo 2 (2023) immediately expands the Kuntilanak universe with an ambitious intent. The purpose is clear; Mangkujiwo series will knit together both timelines in the original trilogy and the teensies' Kuntilanak saga. Subsequently, this sequel (of a prequel) also cements this IP as a versatile mega-franchise that always finds a way to incorporate the iconic ghoul in a series of genre mashups. What this film can't quite do is shake off the mediocrity that has always plagued the franchise from the get-go.
A Game of Fiends
Picking up where the story left off, Mangkujiwo 2 follows Uma (Yasamin Jasem) as she navigates her newly-found ability. Despite having no controls, Uma is able to get visions of past events and, importantly, summon kuntilanak when in distress. This gift has made her an important asset for her father figure, Brotoseno (Sujiwo Tejo), in his quest for glory.
This sequel has now veered towards a political thriller and mystery more than any film in this mega-franchise. Brotoseno now makes a secret alliance with Karmilla (Karina Soewandi – from 2019 Kuntilanak 2) and Nyi Kenanga (Djenar Maesa Ayu). After getting rid of Tjokro Kusumo (Roy Marten in the first film), the secret guild plans to obliterate Dargo Sentono (Yayu Unru) – a cunning businessman assisted by demonic rat fiends – and his ex-military collaborator, Amperawan (Kiki Narendra).
Complication arises when Uma gets involved with a curious photographer with a mystifying past, Rimba (Marthino Lio). The narrative interchanges between Brotoseno's malicious scheme and Uma's relationship with Rimba. Both inter-connected subplots will coalesce as Mangkujiwo's maneuver thickens in the background.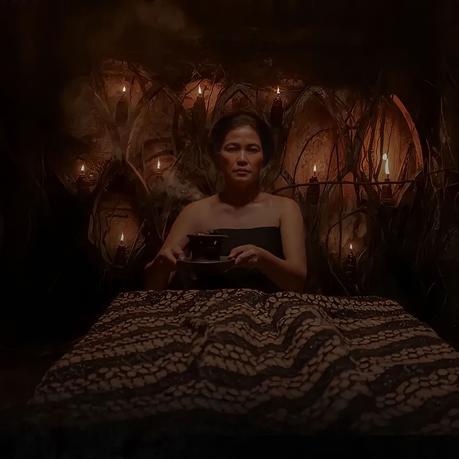 Djenar Maesa Ayu portrays Nyi Kenanga in Mangkujiwo 2. Credit: MVP Pictures
While each opposing faction possesses diabolical fiends, there won't be any stand-off. Mangkujiwo 2 focuses on a chess-game of power between people. The fiends, especially the Kuntilanak function almost as mere macguffins only. That's how this sequel shifts away from the horror tropes that have always been its mainstay.
Terrors are scarce; but, when they eventually appear, those sequences are almost toothless. The most harrowing moments in this film exclusively involve Uma – be it just a fraction from grotesque past events or the Kuntilanak running rampant to kill people mercilessly. After a while, these horror scenes become exhaustive and predictable, giving only insignificant boosts to the narrative. The only key takeout from this macabre is Azhar Kinoi Lubis' (director of Kafir) keen eyes for blood-gushing executions. 
A Cult of Talks
While establishing a canonical connection between three different timelines in this universe, Mangkujiwo 2 (2023) is mostly a self-contained story. The narrative, however, tethers exclusively and extensively to the first film. Now, this is where it gets more complicated than it should've been. The first Mangkujiwo is nothing but easy to keep track of which detail is substantial and which are vague. The thing is, this sequel has a penchant to contradict the details exposed in the predecessor.
To present its nest of intrigues, Dirmawan Hatta's script opts for heavy expositions through a series of dialogues. This unsubtle creative decision is quite possibly an answer to criticism on the first film's extensive use of non-linear narrative that makes the plot incomprehensible. Name-dropping and event recital become the means of revelation in conjunction to Uma's vision. It's effective and, at least, more believable when the seasoned actors (Tejo and Narendra in one scene; Maesa Ayu and Unru in another) are in charge of this exchange of information. Yet, the younger actors' deliveries are pale in comparison; those scenes look sluggish and unconvincing.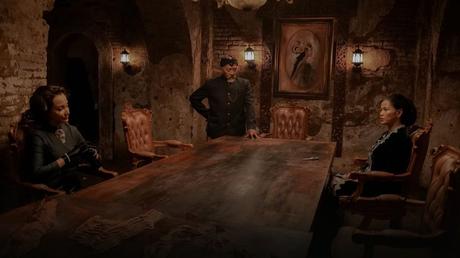 Karmila (Karina Soewandi), Brotoseno (Sudjiwo Tedjo), and Nyi Kenanga (Djenar Maesa Ayu), pivotal members of Mangkujiwo cult. Credit: MVP Pictures
On another note, the lore of Kuntilanak has expanded exponentially with this entry. Mangkujiwo 2 (2023) finds a way to make the fictitious Javanese mysticism flourish once more – just like the original trilogy does in the aughts. But, it's the same case all over again: a great lore with a mediocre presentation and narrative. Now, the question is, will this film make or break the continuity now that Julie Estelle's come-back to Kuntilanak universe is announced?
7.3
Mangkujiwo 2
| January 26, 2023 (Indonesia)
Director:
Azhar Kinoi Lubis
Writer: Dirmawan Hatta, Erwanto Alphadullah
Stars: Yasamin Jasem, Djenar Maesa Ayu, Sujiwo Tejo
Summary:
Countries: Indonesia
Languages: Indonesian
Source: imdb.com
Disclaimer: This plugin has been coded to automatically quote data from imdb.com. Not available for any other purpose. All showing data have a link to imdb.com. The user is responsible for any other use or change codes.