Bret Easton Ellis claims he doesn't write for an audience, and he doesn't write for his fans. In media interviews, he likes to play fast and loose with his reputation: "I'm straight," he'll tell one interviewer. "I'm gay," he'll say to another. "I'm not gay, straight, or bi-sexual" he'll say to a befuddled interviewer who's heard it all before. Ellis jokes that the answer to questions regarding his sexual orientation depend on his mood. He runs on a disillusioned idea of himself, some kind of abstraction. This ambiguity and intrigue tied in with the public accounts of drug use and controversy allow the reader's imagination to run wild, trying to decipher fact from fiction.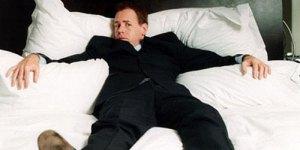 Bret Easton Ellis
His 2005 effort Lunar Park seems to counter the idea that Ellis doesn't write for an audience – and even if he isn't writing for them, Lunar Park is the ultimate gift to fans of his literary works, whether he likes it or not. While it's a supposed trip down memory lane for Ellis, it reads as a culmination of his previous works American Psycho and Less Than Zero – arguably his two most pivotal works. 1985′s Less Than Zero is Ellis' first novel, published when he was just twenty years old. Following its release, Ellis was catapulted into fame and fortune and became part of the literary 'brat pack' with Jay McInerney and Tama Janowitz. American Psycho is Ellis' magnum opus, published to controversy after being dropped by his publisher in 1991, rousing feminist debates lead by Germaine Greer, all before the book was on the shelves.
Lunar Park is the amalgam of his celebrity, the rumours and the truths, and the all-stars from his novels. It wavers between fiction, non-fiction, ghost story, and a surrealist therapy session. The trick with Ellis is, when he says he's telling the truth, he's lying to you. When he's writing as serial killer Patrick Bateman in American Psycho, he's being honest about his own personality (bar the serial killing).
Lunar Park was inspired by Stephen King's horror writing after Ellis had read his novels as a teenager. The first fifty pages are written in a memoir prose as Ellis recounts the controversy surrounding American Psycho's release, the debacle that was the Glamorama book tour, and his complicated relationship with his father and his fictional wife, actress Jayne Dennis.
Then, Lunar Park really begins.
"You do an awfully good impression of yourself," a fictional Jayne says to a fictional Bret Ellis.
Throughout the ghost story Bret is a relapsing alcoholic and drug addict. He is haunted by his father's ghostly presence in the house as well as being tortured by his past. The things he had created when he was young are coming back to haunt him. A vigilante Patrick Bateman is on the loose. Detective Don Kimball wants to talk to Bret about the murderers that have been inspired by his own creation. A student Bret teaches looks like Clay from Less Than Zero and he hands in a manuscript called Minus Numbers. His step-daughter's Terby doll comes to life and it's trying to kill him. The house is decaying before his very eyes to reveal a true persona, a history of Ellis, and he is unable to escape the disconnect between he and his fictional son, Robby, and his real life father, Robert.
The closing paragraph for Lunar Park (pictured above) suggests that perhaps Ellis is not referring to his son, 'Robby', but in fact to himself as a son to his father Robert, whom he had a tumultuous relationship with. Fictional Bret comes to terms with the father who raised him, the father who passed away a long time ago, and, in turn, the author finds liberation too.
Lunar Park is an exploration, a battle, a resolution, an apology, it's closure, and it's a grown man finally coming to terms with his father's death after eighteen years.
It seems to be the story of the author finally looking into the mirror and seeing the cold, sobering light.
It's the story of Bret Easton Ellis, whoever he is.