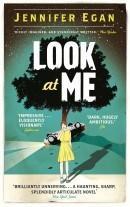 Author Website
Amazon (UK)
Amazon.com
What It's About
A fashion model named Charlotte Swenson emerges from a car accident in her Illinois hometown with her face so badly shattered that it takes eighty titanium screws to reassemble it. She returns to New York still beautiful but oddly unrecognizable, a virtual stranger in the world she once effortlessly occupied.
Charlotte's narrative is interwoven with those of other casualties of society's infatuation with the image. There's a deceptively plain teenaged girl embarking on a dangerous secret life, an alcoholic private eye, and an enigmatic stranger who changes names and accents as he prepares an apocalyptic blow against American society. These narratives converge in this intellectual thriller of identity and imposture.
Opening Sentence
AFTER THE ACCIDENT, I became less visible.
I've become quite a fan of Jennifer Egan over the past few months. I've read all her novels except A Visit from the Goon Squad (to read in 2016 for my repetition of the Popsugar Reading Challenge) and The Keep (on my list of books I intend to borrow from the library at some point).
Look at Me has all the elements of a great thriller; mystery, intrigue and drama. All of the elements work really well together to create one of the most interesting and well-written thrillers I've come across in ages.
The novel switches narrative point of view every few chapters. Some chapters are told from Charlotte's perspective and are written in the first person. Other chapters are written in the third person from the perspective of other characters including the teenage daughter of Charlotte's old school friend Ellen, also called Charlotte. This works really well.
The characterisation is spot on. Every character is vivid, well-written and so real they step off the page and come to life. Charlotte, both of them was my favourite. I wasn't sure what to expect from a main character who was a model recovering from reconstructive surgery. I expected (stereotypically) for her to be vain and spoiled and I couldn't have been more wrong. She's one of the most complex characters I've ever come across. I could relate to what teenage Charlotte was going through as well.
I enjoyed every page of Look at Me. I felt real sympathy for Charlotte as she struggles to find her place in her old world with her new face. I liked all of the people she encounters as she tries to carve a new identity for herself. I thought the ending was great.
I'd highly recommend Look at Me.