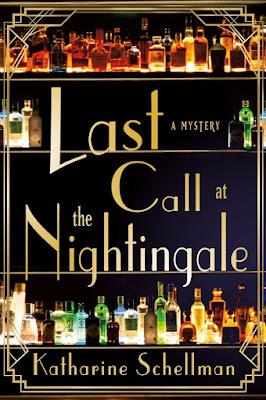 Last Call at the Nightingale
(Nightingale Mysteries #1)

Author: Katharine Schellman
Genre: Historical Mystery
Book Publisher: Minotaur Books
Book Release Date: June 7, 2022 
Audiobook Publisher: Dreamscape Media
Audiobook Release Date: June 21, 2022
My rating: 5 of 5 stars
Links: Goodreads | 
Amazon | B&N | Book Depository 



ABOUT THE BOOK:New York, 1924
Vivian Kelly's days are filled with drudgery, from the tenement lodging she shares with her sister to the dress shop where she sews for hours every day.
But at night, she escapes to The Nightingale, an underground dance hall where illegal liquor flows and the band plays the Charleston with reckless excitement. With a bartender willing to slip her a free glass of champagne and friends who know the owner, Vivian can lose herself in the music. No one asks where she came from or how much money she has. No one bats an eye if she flirts with men or women as long as she can keep up on the dance floor. At The Nightingale, Vivian forgets the dangers of Prohibition-era New York and finds a place that feels like home.
But then she discovers a body behind the club, and those dangers come knocking.
Caught in a police raid at the Nightingale, Vivian discovers that the dead man wasn't the nameless bootlegger he first appeared. With too many people assuming she knows more about the crime than she does, Vivian finds herself caught between the dangers of the New York's underground and the world of the city's wealthy and careless, where money can hide any sin and the lives of the poor are considered disposable...including Vivian's own.
MY REVIEW:
I love reading mystery books about the Roaring 20's during Prohibition, mobsters, and shady speakeasies. I was in a long drought after reading and loving Vixen, Ingenue, and Diva, the flappers series by Jillian Larkin, so I was so excited to read Last Call At The Nightingale! It was my first time reading a book by Katharine Schellman and not only did it exceed my expectations, but I am now hooked on Schellman books!
I absolutely loved the characters in this book. In particular, two stood out as my favorite. Vivian - what a tough, courageous woman, being sucked into all the seedy drama after she finds a dead body in the alley of the Nightingale and tries to solve the murder mystery. I was so impressed by her character and the fact that despite all of the danger she put herself in, she still was able to squeeze in a little romance. That is my kind of girl! Honor Huxley, the Nightingale Club owner, comes through as such an intense and intimidating character, just like she is supposed to be, so I really looked forward to her scenes. And it was nice that an lgbtq+ character not only got represented in this book, but really shined. Remember this was back in the 1920's when it was more difficult to come out.
This book also showcases both extremes of a modest living and a lavish lifestyle. It also displays family dynamics that are not always perfect, so it was balanced and believable. But there is a topic in the book that is discussed that may be a trigger for some people that is relevant to the storyline, but the author handles it very tactfully.
This book really transports you into the 1920's from the moment Vivian walks into the Nightingale for the first time. From the clothes to the live band playing relevant and popular jazzy tunes of the time, to the illegal drinking in the club. Lots and lots of booze! This book has lots of sexy flirting, dangerous moments, non-stop action and suspense, and will keep you guessing until the very end about who the murderer is. At one point I had about four suspects. Hints are smartly sprinkled in here and there, but I still did not figure it out until it was revealed. So this is an excellent mystery! And the TWIST at the end, wow! This is a very thought out and planned mystery, you can really tell, and that made it so much better. And the ending sets up the story nicely for the next installment of the Nightingale Mysteries, which I am excited for!
I thoroughly adored this book so much, I preordered a signed copy of the book with a personalized inscription. I highly recommend it!
My review is based on the audiobook version of Last Call at the Nightingale on netgalley. Thank you Minotaur Books and Dreamscape Media! The narrator, Sara Young, did such a wonderful job really displaying each character and really engrossing you into the story with her pleasant voice. I would definitely listen to another audiobook by this narrator and publisher. So definitely check out the audiobook if possible.
*I received an audiobook download from netgalley in exchange for an honest review. My review is not influenced by netgalley or the publisher. 
All thoughts and opinions are my own.
MY RATING: 5 STARS


BOOK PICTURES:
I wanted to share some pictures of my copy of Last Call at the Nightingale that I had preordered. I was able to order a signed copy with a personalized inscription inside! I love it soooo much!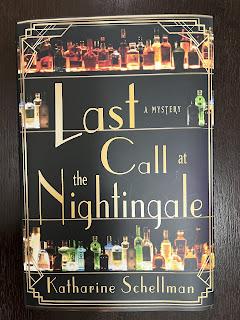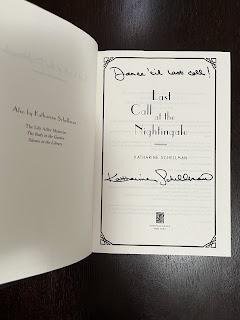 ABOUT THE AUTHOR:
KATHARINE SCHELLMAN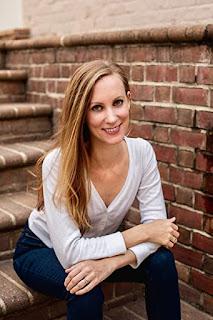 Katharine Schellman is a former actor and one-time political consultant. These days, she writes the Lily Adler Mysteries (Crooked Lane Books) and the Nightingale Mysteries (Minotaur/St. Martin's Press). Last Call at the Nightingale, her newest release, is a Publishers Weekly Summer Reads Pick for 2022 and a BookPage Most Anticipated Mystery & Suspense Book of 2022. Her debut novel, The Body in the Garden, was one of Suspense Magazine's Best Books of 2020 and led to her being named one of BookPage's 16 Women to Watch in 2020. Its sequel, Silence in the Library, was praised as "worthy of Agatha Christie or Rex Stout." (Library Journal, starred review) Katharine lives and writes in the mountains of Virginia in the company of her husband, children, and the many houseplants she keeps accidentally murdering.
FOLLOW THE AUTHOR ON SOCIAL MEDIA:
WEBSITE | GOODREADS | INSTAGRAM | TWITTER | FACEBOOK
LIST RAVES:
A 
Publishers Weekly
 Mystery/Thriller Summer Reads 2022 Pick
One of Goodreads' 2022 "Spring's Most Anticipated New Mysteries"
One of 
BookPage's 
"Four Best June Mysteries"
A Bustle "Most Anticipated Book of June 2022"
A 
Virginia Living
 "Notable Spring Book"
A GO Magazine "Slide Into Spring and Summer with these Fabulously Gay Reads"
MASSIVE BOOK PRAISE:





"Fizzy . . . Vivian is a terrific character, plucky and resourceful, determined to choreograph a different life for herself."―
New York Times Book Review

"Excellent . . . Vivian proves to be a most imaginative sleuth. Readers will eagerly await her return."―
Publishers Weekly
 (Starred)
"The well-developed supporting cast is diverse in race gender, and sexuality, and the suspense will keep readers guessing until the end."―BookPage (Starred)
"A compelling, atmospheric series debut. Schellman expertly creates a strong sense of pace, introducing a nightclub as a world where people of different races, classes, and sexual orientations can come together."―
Library Journal

"A Jazz Age murder thrusts a good-time girl into the uncomfortable role of secret shamus . . . A colorful period crime yarn with a heroine with rooting for."―
Kirkus Reviews

"Readers will love 
Last Call
at the Nightingale
 for its twisting plot, its flair for historical detail and its inclusive cast of appealing characters. Don't look away, as the surprises keep coming until the final page."―Shelf Awareness
"One of the pleasures of
 Last Call at the Nightingale 
is how the city thrusts the characters together, across the socioeconomic spectrum and racial and ethnic divides . . . the Nightingale is a world unto itself."―BookTrib
"[Schellman] touches on issues of segregation, poverty, and class divides with a deft hand that leaves plenty of room for a very satisfying murder mystery with a great deal of heart."―Mystery & Suspense
"This debut from Katharine Schellman is as thrilling as it gets. For any fans of mystery looking for a new spin on a beloved genre, here's your next great summer read."―BuzzFeed Books
"As with the Nightingale club, the mystery plot crosses lines of class, gender, and ethnicity. This novel plays with our expectations and keeps our attention on every fast-moving page. Highly recommended."―Historical Novels Review
"
Last Call at the Nightingale
 is a sexy, fun romp through the Jazz Age. With a well-plotted mystery and applause-worthy female characters, readers will soak up this spellbinding read."―Michelle Gable, 
New York Times 
bestselling author of 
A Paris Apartment 
and 
The Bookseller's Secret

"This sharply paced, queer murder mystery, set in 1920s New York City, offers equal amounts of atmosphere, danger, and crime-solving. Schellman is at the top of her craft and delivers a murder mystery with clever twists and turns and memorable personalities."―Denny S. Bryce, Bestselling Author of 
Wild Women and the Blues

"Complete with speakeasies, mobsters, and an unflappable flapper as its heroine, this is a book that should be savored with a glass of bootleg gin in one hand and a 78 of Louis Armstrong and His Hot Five on the gramophone."―Allison Montclair, author of 
The Right Sort of Man

"Brimming with Jazz Age atmosphere, suspense, and a cast of engaging characters. Vivian is smart and gutsy, a character you'll root for. I'm already looking forward to her next adventure!"―Ashley Weaver, author of the Amory Ames and Electra McDonnell series
"Original, bold, and sexy. This delicious mystery takes you to the Nightingale, a club where people can be who they really are, but everyone has secrets. Dirty doings among New York's elite, family drama, and more than one love story make for a fantastic start to a great new series."―Mariah Fredericks, author of the Jane Prescott series