- By Yufeng K.
So after a few days of obsessively replaying Celebration Rocks and Lonerism and nursing sunburt skin, I guess it is time to look back on the third installment of what is arguably the biggest outdoor music festival here in Singapore (well, there aren't many to begin with anyway). Hang tight it's going to be a long one.
This year, Chugg Entertainment decided to move the event away from Fort Canning Park, the de facto holy ground of outdoor concerts, to The Meadow at Gardens By The Bay, a much larger venue with the Singapore skyline forming a really great backdrop. Obviously, the money invested in this replica of Pandora couldn't be recouped with just tourist dollars alone (watch your wallets fellow hipsters!). Well, to be fair, more ground meant more Porta Loos and more space for picnic mats. What it lacked however was any shade at all (I mean it is called The Meadow after all) so grabbing a shirt from my wardrobe turned to be an unexpectedly wise decision.
We also got a mascot for the event (aka Derrick the Cat), did not get a cheesy TV ad (phew) and stuck with the two stage set up from last year, which meant minimum waiting time and maximum enjoyment.
As with last year, festival goers were blessed with clear blue skies and sun-kissed skin, with all my efforts at weatherproofing proving a complete waste. But thankfully, a breeze began to pick up as the blazing midday sun retreated and by night the weather was nothing short of perfect.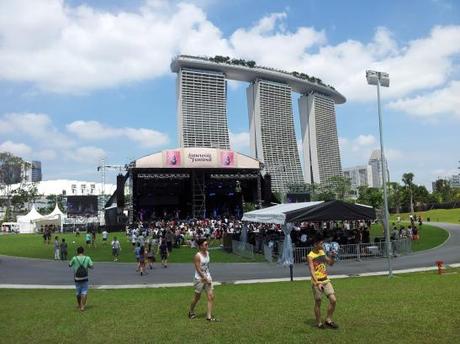 So much for "Rainway"
The initial heat did not dampen spirits and festival openers Kings of Convenience certainly played their part. I was pleasantly surprised by how much I enjoyed their set, despite having watched them perform at the Esplanade Theatre in 2010. With no new material since 2009′s Declaration of Dependence, the duo changed it up by introducing a full band and put new spins on old tunes (cue guitar solos and rock breakdowns). Their guitars certainly needed no warming up (though the usually faultless Erlend Øye did fumble a note or two) and the crowd that was still streaming in were definitely won over by the band's Nordic charms and Erlend's geeky (sexy) dance moves.
Stray Observation: Zebra crossings make good subjects for poems.
Erlend would much rather dance.
Poliça, who flew into Singapore on Saturday morning itself, was up next and Justin Vernon's favorite band gave an energetic performance that belied what I assume must be massive jetlag. While I do not share the same taste as Bon Iver (woe is me), the five-piece from Minneapolis acquitted themselves well enough, with a memorable rendition of "Dark Star".
Despite a great start to the day, all was not smooth sailing however. I'm not sure if it was the hurried soundcheck or the unbearable heat or the lacklustre crowd but the Cloud Nothings set was hugely disappointing.
I love their latest record and was actually pretty psyched to see them live but their sound was really washy and Dylan Baldi's vocals were a little mediocre and definitely too soft for my liking. I'm no expert but if they sounded like an "amateur teenage rock band", as a friend kindly put it, something must have been wrong somewhere.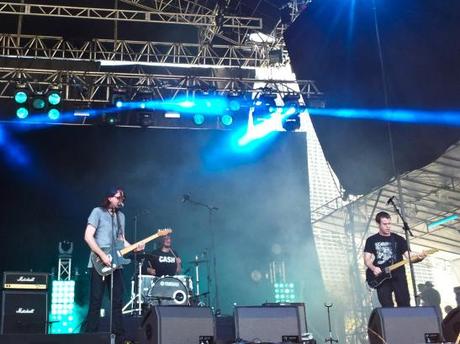 Cloud Nothings drew some decidedly mixed reactions
Sound continued to be a problem as Divine Fits also had technical difficulties and stopped a few times mid-set to make adjustments. Thankfully, the band managed to pull through and put on a tight performance that should win them a few more fans (i.e. me). Highlights included the rocking "Civillian Stripes" and Alex Fischel killing it on the keyboards.
The sun never looked like easing up, and neither did the crowd as people streamed forward in anticipation of favourites Of Monsters and Men. I was ashamed to call myself a fan amidst the screaming teenagers around me who probably knew every lyric by heart, but I had my fair share of fun.
For a band that formed only three years ago, the Icelandic folk quintet exuded the irresistible stage presence of veterans. And with a winning combination of bright, colourful outfits, hit after catchy folk hit and great energy on stage and off, Nanna and the gang were certainly worth getting roasted in the sun for. It is hard to argue when the entire audience is singing aloud to "Little Talks", even when the band stops playing.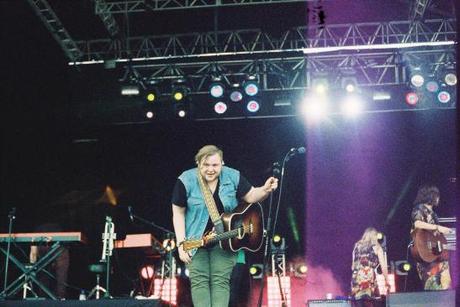 Raggi says thank you.
And what better way to celebrate another day in our perennial summer with a band whose hit single was voted Indie Song of the Summer. Japandroids are just Brian King and David Prowse but they pack a hell of a punch. Slight technical difficulties (you might begin to see a recurring theme here) did little to hinder one of my favorite sets of the day.
Running through song after song from both their records Post-Nothing and Celebration Rock, the band played with so much aggression and verve that by the end of 40 minutes, the duo were sweating buckets and looking completely exhausted. But that did not even stop King's primal screams on the closing song "For The Love of Ivy" and Prowse almost destroying his drum set.
At some point, Brian said that the band were thinking of coming back to do a solo concert and I would be first in line if they did. Though judging from the response during the set, not many would be in line with me. How disappointing.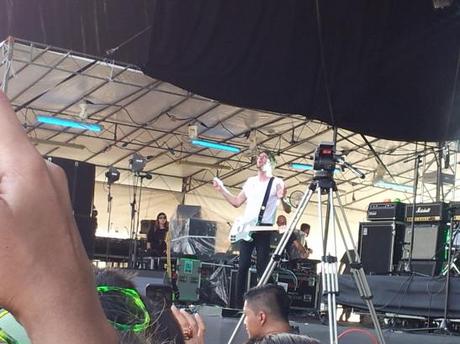 It is hard to get a decent picture while moving various body parts violently.
Because the artists at Laneway were that eclectic, the afternoon immediately took a sharp turn. The hypnotic deep house of Nicolas Jaar got everyone dancing as the hazy delirium of Japandroids' fist-pumping guitar rock was slowly but surely put on the back-burner.
Backed by an excellent band comprising saxophonist Will Epstein and guitarist Dave Harrington, the Chilean-American served up a seamless mix of sounds old and new, his charisma oozing out from behind that Macbook. With the sun finally deciding it was time to give everyone some respite, the Nicolas Jaar's slow jams were a welcome change of pace. Pretty sure he gained more than a few new fans here.
Dusk painted the sky with a magical swirl of purple and orange and having stood at the front for far too long, I decided to head to the back to grab some food (the $7 sausage from Shiraz was bordering on rip-off to be honest) and breathe a little fresh air. Kimbra definitely served up a visual feast, with her outlandish (Snow White??) costume and her wacky onstage antics. By all accounts it was a good set too, but not one for me.
Fatigue slowly started to set in as night fell and Real Estate did not do me any favours. The New Jersey band's brand of laid-back alt-rock would probably have fared much better if it did not come right after Kimbra's supercharged set. The set started off well, the band playing hits "It's Real" and "Green Aisle" to much applause. But a real lack of engagement with the audience meant that a pretty understated if not underwhelming set. But kudos to the band for playing so much new material. Plus a new album on the horizon is nothing but good news.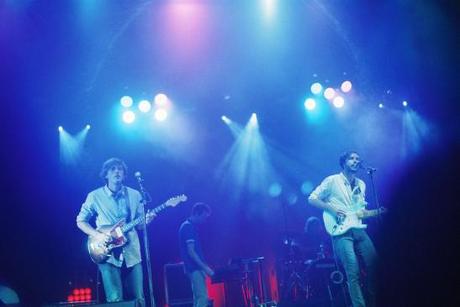 Real Estate lead singer Martin Courtney's (far right) guitar is gorgeous.
The time was 8:15 pm and as the last notes of "All The Same" faded into the night air, the ground began simmering with anticipation. For many festival-goers, myself included, Mercury Prize winners Alt-J were the band to watch. The mass of bodies congregating at Stage 2 burst into life as the band dived into the groovy "Tessellate".
But in a cruel case of deja vu (recall The Pains of Being Pure At Heart last year. Same time, same stage), the band quickly realised that Joe Newman's vocals had problems as did Thom Green's drums. Visibly frustrated, the band left the stage as the crew scrambled to rectify the technical issues. The band came back on after a 5 minute delay as fans chanted the band's name repeatedly, screaming for their return.
The set continued to be plagued by hiccups but despite this, the British indie-rockers still managed to serve up a tight performance. "Breezeblocks", "Matilda" and "Something Good" were enough to whet the crowd's appetite and distract from the technicians who were being kept very busy.
Ultimately though, a band as focused on sonic intricacy as Alt-J were always going to suffer with the problems that they had. Closer "Taro" encapsulated their set — earnest but lacking. Definitely the biggest bummer of the festival (and that's with the never-ending booze queue and $5 Fiji water in mind).
 Still sore from Alt-J's set, I was braced for more disappointment as Yeasayer took to the stage. The experimental rock band played a brilliant show worthy of Laneway folklore during the first installment of the festival, one that was pretty hard to match. They also looked markedly different from two years ago, with lead singer Chris Keating donning a sports coat and Anand Wilder ditching cotton for denim. And to compound the problem, I was woefully unfamiliar with the band's new songs.
But it soon became clear that I could not be any more wrong. For the second time, the quartet hailing from Brooklyn, New York utterly blew my mind.
The set started off with a new song, which the crowd took some time to warm up to. But as soon as the melody of "2080″ blasted through the speakers, I knew I was in for a great time. Keating was his usual effervescent self and it did not take long for him to lose his jacket and go absolutely manic on stage — standing on speakers, sitting by the edge of the stage and at one point climbing up the barricade much to the crowd's delight.
"The next two songs are going to be the sing-along kind," Keating declared to words of that effect and sure enough fans sung in unison to the ever popular "Ambling Alp" and "Wait For The Summer", bringing an end to a gripping performance that was surely as unforgettable as their first.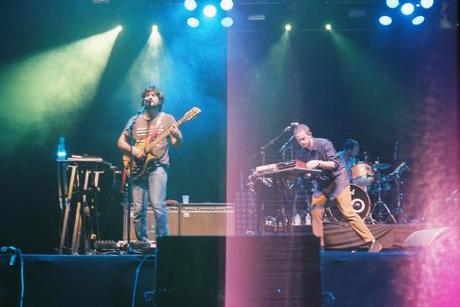 Will third time be the charm for Anand Wilder (left) and Chris Keating (right)?
Without warning, Natasha Khan, better known as Bat For Lashes, burst onto stage in a blaze of white light. "Again tonight I sang a song, a prayer if you will," she crooned, her ethereal voice silencing the crowd. As her winged blouse danced capriciously in the cool night breeze, the opening song "Lilies" slowly building in intensity, Khan began to put everyone under her spell.
And if her video for "All Your Gold" was any indication, Khan certainly has the moves and she was not afraid to show them. A shake of the butt here and a point of the finger there and the audience were left swooning.
The mood shifts during her set were a little erratic for my liking, especially with her ending with the upbeat "Daniel", rather than the heart-wrenching ballad "Laura". But to hear Khan stripped down to just her soaring voice and a simple piano melody and giving a stellar, stellar delivery made everything worth it.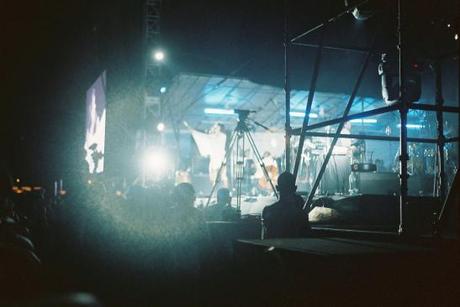 More than a superstar
Just when I thought the night could not get any better, Tame Impala had to conjure up an intoxicating performance of their own. It is difficult to express the euphoria that overtook me as the flanged guitar from "Be Above It" pierced through the band's rapturous reception and the percussive vocal sample that morphed into a multi-layered sonic orgasm. Kevin Parker is not the most extroverted performer but he does not need to be. Tame Impala's music speaks volumes, on record and in the flesh, and as psychedelic rock experiences go, it was one to be relished. Ending with "Half Glass Full of Wine" from their 2010 debut Innerspeaker, the set was one that I wished would never end. The calls for an encore as the Australian band left the stage surely backed me up.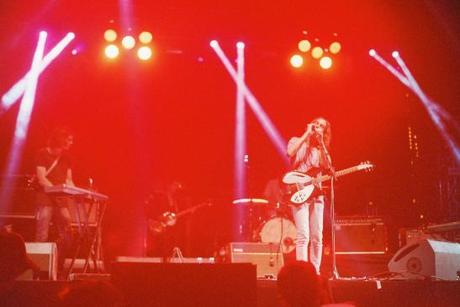 "Who needs drugs when you have Tame Impala"
And to be brutally honest, Tame Impala made such an impact that I really did wish the day ended on that note. But it was up to Belgian-Australian one-hit-wonder Gotye to close a wonderful festival.
Closing Thoughts
The sky on the night of January 26th was as clear as ever. Lying on the grass underneath the stars, I tried to sum up my emotions after more than 12 hours of great music. What I felt was a deep sense of satisfaction that I truly believe only watching live music can give.
How does this year's festival stack up with the previous years? As they say, the first time is the sweetest and 2011′s Laneway will always be the best one for me, with the unprecedented lineup (Warpaint, Beach House, !!!, Holy Fuck, Foals) and the rain that somehow made everything shimmer.
But all in all, Laneway Festival has once again proven to be the event to be at for fans to enjoy good music and good company. Till next year.