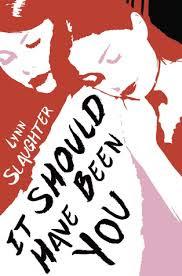 Book:
 It Should Have Been You
Author:
 Lynn Slaughter
Publisher:
 Page Street Kids
Publication Date:
 Jan 30, 2018
Genre:
 YA Thriller/Mystery
Format
: Hardcover
Pages:
 320
Source:
 I received an ARC from the publisher in exchange for an honest review.
Purchase Links: Amazon | B&N | Kindle ebook |
Book Depository | IndieBound | Books-a-Million |
ABOUT THE BOOK:
A cyberstalked high-school advice columnist takes matters into her own hands to discover the secrets behind her twin sister's murder in this intense and compelling mystery thriller.
Seventeen-year-old Clara Seibert ghostwrites an advice column for her school's newspaper. She's funny, feisty, and cares deeply about making a difference in people's lives, but her own personal problems threaten to overwhelm her. Five months ago, her twin, Moura, was murdered. 
Soon threatening emails start to arrive at her staff inbox. Convinced that her email stalker blames Clara for her sister's death and is out for revenge, she decides to undertake her own investigation. Can she solve the murder in time to save herself? 
This suspenseful page-turner about a complicated sibling relationship is perfect for fans of We Were Liars, Fangirl, I'll Give You the Sun, and Vanishing Girls. Secrets, lies, brilliantly crafted twists and turns, and a dual mystery will keep readers in suspense until the very last page. 
Although primarily a whodunit, this novel also focuses on important social themes high-school teens face. Lynn blends a page-turning mystery thriller with sweet romance and demonstrates the very real effects of grief, rivalry, sexuality, dating violence, and bullying on today's youth. Clara is believable, relatable, smart, snarky, brave, and conscientious. Her strong teen voice will resonate with a wide audience, and she is a perfect role model for teens who are dealing with similar social issues.
ABOUT THE AUTHOR: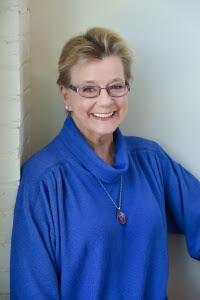 LYNN SLAUGHTER
 has a passion for dance and music - from Frank Sinatra to Chopin - and her first book, While I Danced, was a finalist in the 2015 EPIC competition in the Young Readers category. Before earning her MFA from Seton Hill University, she spend five seasons as a principal dancer with Detroit's Harbinger Dance Company. She and her husband live in Louisville, Kentucky. 
CONNECT WITH LYNN SLAUGHTER ON SOCIAL MEDIA:
WEBSITE | TWITTER 
MY REVIEW:
It Should Have Been You was such an intense, gripping, and suspenseful thriller/mystery. It was extremely well done, eliciting tension and suspense at just the right times, as well as producing hair-raising, anxious moments where you just hold your breath. The novel opens with a big punch, as Clara's twin sister Moura is murdered right away. Then the story starts five months later and follows Clara's life afterwards and shows what she deals with in high school due to this horrible incident, including bullying, blame, and threats. 
One of my favorite parts of the book was reading Clara's advice column in her school newspaper that she ghostwrites, which was her way of trying to cope with her sister's murder, by helping others. I also loved the suspense of when she would receive the next threatening email in her school newspaper inbox about the fact that it should have been Clara that was murdered, and seemingly accusing her of being guilty of murdering her twin sister Moura, and the most haunting of all - deadly payback. Who is threatening Clara?In a dark and twisted way, these emails were engrossing to read. Clara remains brave and stoic at first, but then realizes the gravity of things. She decides to do her own investigation into her sister's murder, and this is where things get really complicated, yet alluring. The thorough detective work done by Clara was very fascinating to read about, leading to some more information regarding the case, while at the same time making you think, is Clara doing this investigation on purpose to throw everyone off of her trail of guilt? 
Clara and her twin were not super close siblings during the time of Moura's murder so could she have done it? The author smartly utilizes the strong family blood bond of being a twin to complicate your suspicions, yet satisfyingly makes them more sinister. The closer the family relation, the deeper the betrayal. You think, can a twin really be so evil as to kill her own twin sister if she is present at home along with her sister during the time frame of the murder? The window of opportunity is there and you have to make a judgment based on what is revealed to you in the book. You will read Clara's demeanor, which is cold and indifferent towards her twin sister at times and think, does this prove she had a motive to kill her sister? Clara's questionable demeanor makes you raise an eyebrow at her. But the book makes you raise an eyebrow at many others as well and leads you down a path of many possibilities. The author does a good job of confusing and misleading you, and even if you think you have it all figured out, you are thrown for a loop again in this wild ride of a thriller. So it is very well done. 
The author does an amazing and meticulous job placing pertinent clues and hints throughout the book, which are gradually revealed, as well as many red herrings, in order to purposely cast a wide net of suspicion on the many characters in the book that are investigated. Your detective skills need to be on point and you will definitely need your sharp thinking caps on to solve this mystery. 
And I loved the fact that this novel had a surprise dual mystery. What a treat! Talk about going out with a massive bang at the end! It Should Have Been You was such a strong, captivating, edge-of-your-seat thriller, full of climactic intrigue, chilling moments where you were hanging in suspense, and nerve-wracking tension until the very end. It was an incredibly clever mystery, that was well planned, expertly executed, and incredibly fulfilling. It has everything you'd want in a top thriller - suspense, creativity, intrigue, deception, motive, great storyline, and a deeply satisfying, grandiose ending. I am a huge fan of thrillers and mysteries, and this one was excellent from beginning to end, with non-stop action. I did not want it to end. This book definitely plays like a movie, it was that absorbing. It
 hits every key thing to be a successful thriller/mystery and more, since it also has some romance sprinkled in, and tackles some tough issues that twins as well as other teens face in high school. It makes students realize that they are not alone and can always ask for help in sticky situations. And as a twin, I appreciated this story that much more, since I can relate to some of the issues Clara and Moura faced as twins. Being a twin is not always easy, being compared all of the time. The pacing of the novel was perfect and the plot flowed so well, an incredible feat considering all of the intricacies that were involved in the story. This refreshing and bold story will take you on an adrenaline-filled ride.
I highly recommend this book to everyone! And even if you aren't a fan of thrillers/mysteries, you will definitely become one after reading this book! 
I am looking forward to what this author has in store for us next. Once again, Page Street is definitely on the hot radar for sizzling YA books. I'm hooked and loving this YA imprint!
MY RATING: 5 STARS