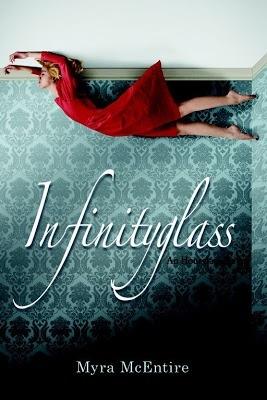 I have been falling in love with the Hourglass series since I first got my hand on it! Now the series has been rounded out to a trilogy ending with Infinityglass. You can check the pervious reviews out for Hourglass and Timepiece here and we even did a fun Story Inspired Experience post. This review will be a little bit of spoilers for those who have not read the series… so go read them first!
The stakes have risen even higher in this third book in the Hourglass series.

The Hourglass is a secret organization focused on the study of manipulating time, and its members — many of them teenagers -­have uncanny abilities to make time work for them in mysterious ways. Inherent in these powers is a responsibility to take great care, because altering one small moment can have devastating consequences for the past, present, and future. But some time trav­elers are not exactly honorable, and sometimes unsavory deals must be struck to maintain order.

With the Infinityglass (central to understanding and harnessing the time gene) at large, the hunt is on to find it before someone else does.

But the Hourglass has an advantage. Lily, who has the ability to locate anything lost, has determined that the Infinityglass isn't an object. It's a person. And the Hourglass must find him or her first. But where do you start searching for the very key to time when every second could be the last?
Oh goodness, the love affair I've been having with the Hourglass books just got more intense. This is one of the few series enders that I was really happy with. So lets talk about it.
Things get really intense this time around, so if you tend to read quickly, you may want to slow it down so you can really grasp all that is happening. I feel like the tag line from the show Big Brother "Don't turn away, or you might miss something!" applies here. The scenes all had a lot going on, and with all the layers and rules of time travel you have gotta take your time.
Characters were crazy. CRAZY. You would think with such an intricate story line we would get shafted with the characters, but McEntire delivers again with strong, come-off-the-paper characters. The gem of Infinityglass has to be Hallie, the gutsy and a delightful girl with some serious spunk. She is brave and I felt like I got to know her well best through her interactions with the other characters. We start off meeting, while she is working with Poe, yes that guy who has a henchmen like quality. Through Hallie's eyes, he's a friend and even used to hook up with him. Viewing Poe not being a creepy guy, was so strange, I had to remind myself on a regular basis I was dealing with a different part of his life. Poe is working for Hallie's father, using his abilities to be very mafia-like. Don't worry the real romance here is not with Poe and Hallie! The majority of the story centers around Hallie and Dune. Dune… oh swoon-worthy Dune. He has such a good heart and I bonded with him because of his genuine goal to do the right thing.
I can seriously go on and on about the characters.. all the characters in the Hourglass trilogy. I have a very serious hope that maybe at least we get some spin-off books. I'm really not ready to part with this series. Those of you worried that there wouldn't be enough Dr. Who references, don't be,within the first few pages the Dr. Who bombs were being dropped.
Have you read Infinityglass? Lets chat in the comments,please! If not, you can purchase it here!
You May Also Enjoy:
Review: Timepiece (Hourglass #2) by Myra McEntire
Review: Hourglass by Myra McEntire
Justine's A to Z Book Survey
Review: Dare You To by Katie McGarry
Review: Destroy Me( Shatter Me #1.5) by Tahereh Mafi
Review: Amber Frost( The Lost Magic #1) by Suzi Davis
Review: Unravel Me ( Shatter Me #2) by Tahereh Mafi
Blog Tour Stop: Black City by Elizabeth Richards