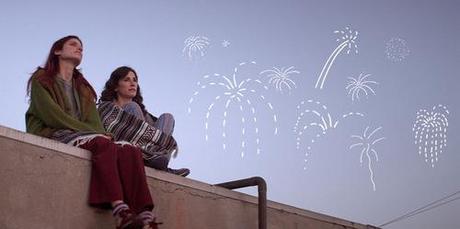 Actor/Director/Screenwriter Lake Bell with co-star Michaela Watkins
"Let's face it. The industry does not crave a female sound…"
This pearl of paternal wisdom is passed down from father Sam Soto to his daughter Carol, both working in the Hollywood voiceover industry.
In a world where the phrase "post-feminist" is thrown around to excuse the array of gender inequalities in the workforce, it's refreshing when a strong voice speaks out for the minority. In this case, it's American actress-screenwriter Lake Bell speaking out for women under the umbrella of the voiceover industry and beyond. Female voiceovers on film trailers are extremely rare, and when a new blockbuster film, 'The Amazon Games', announces they're looking to reinstate Don LaFontaine's famous "In a world…" introduction, Lake Bell's Carol Soloman takes a shot, unbeknownst to the fact that she's competing against her father and a former lover, Gustav Warner.
In A World marks Lake Bell's triumphant debut as a writer, director, and producer, as well as securing her work as a successful actress. Winner of the 2013 Sundance Best Screenwriting Award, it's a comedy of misunderstandings and underestimations about the big voices that can and the little voices that could. While the film uses the voiceover industry as a backdrop, the central concerns of the film pervade though most male-dominated industries. In A World is set in downtown Los Angeles where most of the characters are either working in the entertainment industry doing post-production, or they're working in a hotel lobby. Either way, each character has a hurdle to cross whether it be the challenges of competing in a male-dominated industry, competing with a "broad" (derogatory term for a female), or dealing with an unfaithful partner.
Carol Soloman (played Lake Bell) is an aspiring voiceover artist in LA struggling to make ends-meet through freelance vocal coaching. Carol's father Sam (Fred Melamed) kicks Carol out of the house when his new girlfriend – a woman younger than Carol – moves in. Carol then moves in with her sister (Michaela Watkins) and her husband (Rob Corddry) who are having some relationship issues of their own.
When new film 'The Amazon Games' provides the opportunity to bring back Don LaFontaine's iconic "In a world…" voiceover, Carol's love interest and audio engineer Louis (Demetri Martin) encourages her to try out for the gig. Carol's up against her father's new protege, Gustav Warner (Ken Marino), the next big thing in voice acting. However, when Sam realises Gustav slept with Carol, the three voices compete for the 'Amazon Games' voiceover spot. Amidst sexism, pride, and family dysfunction, Carol manages to shine a new light on the phrase "In A World…".
With a supporting cast including Eva Longoria, Nick Offerman, Geena Davis and Jeff Garlin, In A World is a funny, warm-hearted call for strong female voices in the entertainment industry to speak out and encourage other women to do so too. Bell's authorial voice as a story teller is humorously relatable, rational and enlightening. Her focus is to encourage young woman who adopt the 'sexy baby' voice (picked up from reality television shows like The Hills) to drop the act, find their real voice and project a less infantilised image in the workforce.