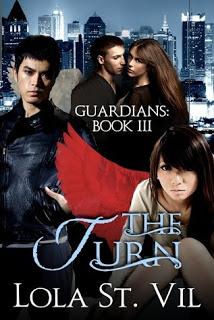 Book Description (via Goodreads):
There. Will. Be. Blood.
After the Council hands down a severe punishment,
A Guardian declares war on the Angel world.
Before the end
Lives will be lost
Love will be tested
And blood WILL flow...
----------------------------------------------------------------------------------------------
My Review:
I recieved a copy of this for review by the author so first i want to thank her for generously letting me read her book.
First i have to start off by saying "What a cliffhanger!". Wow, was so not expecting that one. But thats what makes a good book. Anyway, so this book, pretty much follow's the fallout of Miku (who now calls herself Red) turning. And boy did she turn. That is one angry Angel, if you can even call her that anymore. This book pretty much jumps right into action from the start. And throughout the book the Guardians are left to deal with the fallout of Miku having turned and all the chaos and distruction she has caused as well as the fact that they have not found the Triplex and there is the ever-present issue of the Emmy/Marcus/Ameana triangle... well not really a triangle at this point its more Emmy & Marcus and a very pissed off and bitter Ameana. But i guess i can't blame her, even though im team "Emmy" when it comes to Marcus. There is trouble at every turn for these Angels and human, and i think thats what keeps it interesting, you never know whats gonna happen next. And this book has proven to be the book that has the most shocks and revelations in it. This series just gets better with each book. I dont know how i can wait until Jan. for book 4! The suspense will probably kill me! HAHA. Great book from a great author. Would so recommend this.
-------------------------------------------------------------------------------------------------
Author Info:
Twitter
Goodreads Page
Add the book to your TBR list on
Goodreads