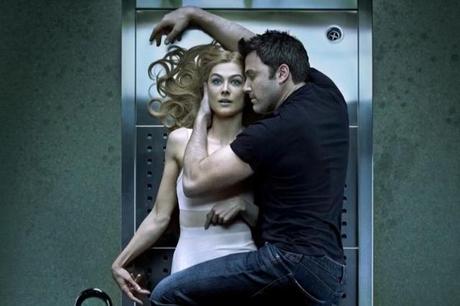 Plot:  Based on the bestselling novel by Gillian Flynn, former magazine writer Nick Dunne (Ben Affleck) wakes up on the morning of his fifth anniversary to find his wife Amy (Rosamund Pike) missing among signs of a struggle.  After reporting the incident to the police, what begins as a simple disappearance soon escalates into a possible murder.  Before long, Nick finds all aspects of his life being scrutinized and every dark secret he carries brought into the media spotlight.
Review:  I find myself in a delicate position when it comes to reviewing director David Fincher's latest film, Gone Girl, the obvious reason being that the movie is a mystery.  To give too much away would be a grave injustice to the viewer so please forgive me if I'm skimpy on the plot details.
Gone Girl fascinates and engrosses from start to finish.  A true mystery thriller that never disappoints, screenwriter Gillian Flynn's script grabs you by the throat and never lets go for two and a half hours.  Sometimes novelists adapting their own literary work doesn't succeed.  Writing a novel doesn't necessarily mean you can write a screenplay after all.
You can't say that about Flynn.
Gone Girl is quite simply a flawless adaptation from book to screen.  Fans of the novel (like myself) will find little, if anything, to be disappointed in.  While I watch movies that were adapted from novels, I often find myself thinking "I wish they hadn't cut X out."  I never thought that once in Gone Girl.  I never felt cheated or thought Flynn dishonored the spirit of the book.  Only the author herself could have written such a perfect adaptation.
Speaking of hand in glove situations, I can't see anyone directing this film besides David Fincher.  With films like Se7en and Fight Club under his belt, Fincher masterfully captures the dark humor, cynicism, and eerie tone of the novel.  Everything from Trent Reznor's Oscar worthy score to the mellowed lighting pastiche, makes for a cinematic marvel.  Longtime cinematographer and Fincher collaborator Jeff Cronenweth, once again lends his considerable talents behind the camera.  The Oscar nominee navigates through the seedy underbelly of an abandoned mall, to the heated confines of an interrogation room, to the lavish bright lights of New York City with ease.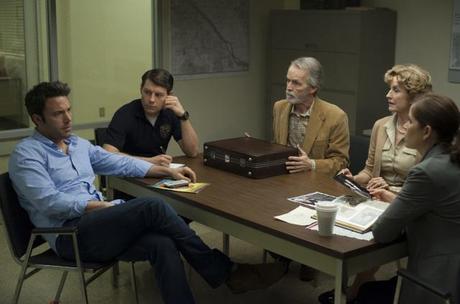 I'd be remiss if I didn't mention that concurrent with the mystery/thriller aspect of Gone Girl, is its scathing examination of marriage in the early 21st century.  The film beautifully demonstrates how we put our best faces on when embarking on a new relationship and how that action sometimes results in lies, resentment, and disaster.  Although Gone Girl takes the consequences to the extreme, it nevertheless serves as a cautionary tale for modern day relationships. The film also indicts our media obsessed, 24 hour news culture, where people are convicted in the court of public opinion before an arrest has even been made.  David Fincher's never been one to shy away from holding a mirror up to society and he doesn't shirk his duties here either.
One of the hallmarks of a great director is surrounding themselves with superior talent.  Having already directed Hollywood icons like Brad Pitt, Morgan Freeman, Michael Douglas, and Jodie Foster, Fincher continues that tradition with Gone Girl.  The role of Nick Dunne is a beautiful marriage (pun definitely intended) between actor and character.  Ben Affleck's acting style dovetails nicely with Nick's reserved and cold manner.  He's brooding, standoffish, bitter, and desperate.  Nick also isn't a really likeable guy.  And yet somehow Affleck evokes sympathy for Nick from his audience.  We feel for his persecution while at the same time we resent Nick for his lies and duplicity.  That's about as good a  testament to how far Affleck has come as an actor as you're likely to find.
The supporting cast impresses as well.  Kim Dickens ("Deadwood" "Sons of Anarchy") steals the scene every time she's on screen as Detective Rhonda Boney, the lead investigator on Amy's disappearance, and one of the few people willing to give Nick the benefit of the doubt.  Carrie Coon ("The Leftovers") serves as Nick's moral compass and twin sister Margo.  Trust me if you liked Coon in "The Leftovers," you'll love her in Gone Girl.  Her dark humor and quick wit adds the requisite amount of levity to the film.  As a rule I typically hate Tyler Perry but his turn as Tanner Bolt, Nick's attorney, is  one of the highlights of the film.  Slick, smart, and shrewd, Tanner knows how the media works and that the key to any criminal investigation is manipulating the story.  Even "Happy Endings" star Casey Wilson shines as Amy's dimwitted friend and neighbor Noelle Hawthorne.  Throw in performances by Patrick Fugit as Officer Jim Gilpin and Neil Patrick Harris as Amy's ex-boyfriend Desi Collings, and you've got a cinematic acting gumbo worthy of any New Orleans chef.

As fantastic as the talent is in Gone Girl, everyone pales in comparison to Rosamund Pike's Amy Dunne.  Pike is a revelation and puts on a tour de force acting showcase that will leave audiences breathless.  She shows a depth and range to Amy that captivates every time Pike steps on screen.  I'm not sure if anyone could have brought Amy to life in such an exemplary and nuanced manner as Pike did.  If Chris Pratt was the breakout actor of the year, then Rosamund Pike is certainly the breakout actress.  Anything less than an Oscar nomination will be a travesty.
The great movies always get under your skin.  They burrow into your mind like a pesky thorn that won't go away.  Gone Girl is one of those thorns.  Days later I'm still thinking about it, writing about it, and discussing it with co-workers.  Rarely has there been a thriller on screen that mesmerizes like Gone Girl.  Almost Hitchcockian, Gone Girl proves to be Fincher's best film to date and one of the best movies of the year.
My rating:  10/10