Back in 2013, Frozen was a surprise giant. Continuing the streak of past-participle-titled Disney princess' movies, Jennifer Lee and Chris Buck's animation is a warm tale about the snow queen, Elsa (Idina Menzel) and her sister, Anna (Kristen Bell). While formulaic, the movie makes a breathtaking breakthrough—introducing two Disney princesses at once, powering the story with the shade of feminism, and shooing away the notion of Prince Charming. Critics, studio execs, and audiences jeered over with excitement back then. After several one-shots, including Frozen Fever and Olaf's Frozen Adventure, the sequel is a certainty.
Eventually, we are back to the Kingdom of Arendelle once more—where Queen Elsa rules alongside Anna. Frozen II moves further back before the events in the first movie, in the moment of the princesses' childhood moments. There's a brief history of the kingdom; and, there's a brief history of magic that might connect with Elsa's ability. Yet, what keeps the story progresses is a mysterious call from the enchanted forest, which only Elsa can hear. From there, the queen and the sister alongside Kristoff (Jonathan Groff), Sven the reindeer, and Olaf the living snowman (Josh Gad) embark on a new adventure into the unknown.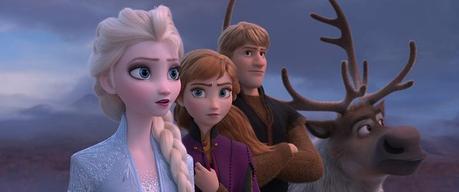 Elsa (Idina Menzel), Anna (Kristen Bell), Kristoff (Jonathan Groff), and Sven in
Frozen II
(2019)
The world-building is expansive, but it never shifts away from some known territories. Frozen II introduces a whole new world outside Arendelle, which offers new colors and new dangers at the same time. The visual compass for the world-building is a traditional four-element structure; each of them is represented by magical creatures—from an invisible vortex, a fiery lizard, a water horse, and a legion of colossal giants. Elsa will learn of the existence of a fifth element; and, basically, that's the whole narrative drive of the sequel.
Given the darker and more mature subjects, Frozen II is a more compelling story that departs slightly from the first movie's family-friendly trajectory. The sequel is built upon subplots which can only make sense after some thoughts, somehow, alienating younger audiences. To deal with that, Lee and Buck adorn this sequel with more songs (of multiple themes and, even, genres) and more spectacles. Gifted with top-notch animated visuals, the spectacles—mostly made of the introduction of the movie's pivotal elements—are eye-candy and, at the same time, setting up the bar for animated features.
While there are "more adventures", the sense of fun in Frozen II is way diminished compared to the first movie. Prolonged duration and dragging scenes cost us the emotional build-up; therefore, when one of the movie's most sentimental moment occurs, the emotion does not hit up as it should have been. The breakthrough that the predecessor introduces no longer means anything; ergo, Frozen II feels like some formality. It may set up a further story in the future (possibly crossover), but for now, we are certain that going "into the unknown" is not as fun as the art of "let it go."

7.3
Frozen II (2019)
1h 43min | Animation, Adventure, Comedy | 21 November 2019 (Singapore)
Director: Chris Buck, Jennifer Lee
Writers:
Jennifer Lee
Stars: Kristen Bell, Idina Menzel, Josh Gad
Summary: Anna, Elsa, Kristoff, Olaf and Sven leave Arendelle to travel to an ancient, autumn-bound forest of an enchanted land. They set out to find the origin of Elsa's powers in order to save their kingdom.
Countries: USA
Languages: English
Source: imdb.com
Disclaimer: This plugin has been coded to automatically quote data from imdb.com. Not available for any other purpose. All showing data have a link to imdb.com. The user is responsible for any other use or change codes.