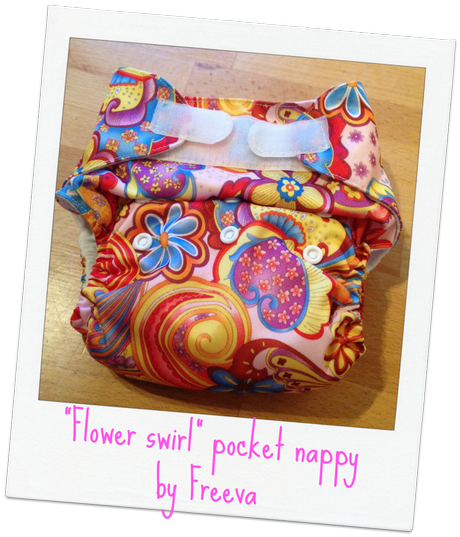 It's not very often I come across a cloth nappy brand I don't know - but that is exactly what happened Freeva got in touch and asked me to review one of their nappies for them. I hadn't heard of Freeva before, so went to have a nosey at their site, and can't believe I have been missing out all this time! They sell everything you need to use cloth - nappies, boosters, liners, even whole kits! What I really love about the Freeva site is their whole section on how to use cloth nappies. There is loads of great info on there, something I think is definitely lacking on other cloth websites. Freeva is a family run company, started by a mommy to two little girls, so they know exactly what is needed to make a great useable cloth nappy for mummies just like them.
We were sent the Flower Swirl nappy to test out...so how did we like it?
Details:


A birth to potty pocket nappy, these come with a microfibre insert. They are adjusted via the 3x3 popper system on the front, making them suitable from 6lb - 33lb. They fasten using hook and loop.


Fit:
It's common for most pocket nappies to fasten with poppers, so most of my stash consists of poppers. However, the Freeva nappies are a little special as they all fasten with hook and loop, and I think this really helps to get the perfect fit around the waist and legs. It certainly took the guess work out of fitting the nappy onto Isabelle, and made sure that the nappy was on snugly, but not to tight, each time.  I found these nappies quite large compared to other pockets they were about 2cm longer, which means they will fit Isabelle for longer than other brands might. When she wore the nappy, it was done up quite tightly so there is loads of growing room. They were also wide in the crotch which is something I personally really like, as it means you can fit in a good sized booster if needed, and I also believe that leads to fewer leaks. Overall, I was very pleased with how well they fitted, and they were still pretty slim as well. 
Containment:


The microfibre insert of this nappy is larger than my other inserts, so it is automatically more absorbent as there is just more room. I found it held up really well to my heavy wetter, and there were never any leaks. I did boost with a bamboo booster, but I do that in all my nappies anyway, so it is no issue. We haven't had a chance to test it's "solids" containment yet, but the leg and waist elastic is so strong (yet soft!) that I am confident it will do brilliantly.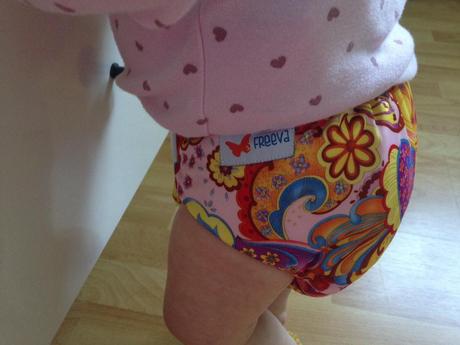 Ease of use:
Super easy with the hook and loop waist fastening. Everyone in the family (including those who have problems with poppers...) can use this with no issues.  The large pocket of this nappy also made it very easy to stuff with the microfibre supplied, and a booster too. The laundry tabs are really well placed, and the hook and loop stuck well to it so I had no laundry chains with this nappy - that always makes me happy! 
Appearance and quality:
I love the Flower Swirl print we received, it's bright and colourful - exactly what I love in my nappies. There are a range of block colours and some very cute prints too, so appearance is really great. The PUL of the nappies is wonderfully soft, as is the suede cloth liner, and it all felt really great quality to me. I was very impressed with the whole nappy. 
Cost:
£9.95 for block colours, £10.95 for prints, which is a great price compared to many other BTP pocket nappies out there.
Bug bears:
I suppose it would be that the microfibre alone isn't enough for us - we do need to boost the nappy. But since that is the case with all my nappies, it's not a major problem here. It would be nice if these came in snap fastening too, for people who may prefer that.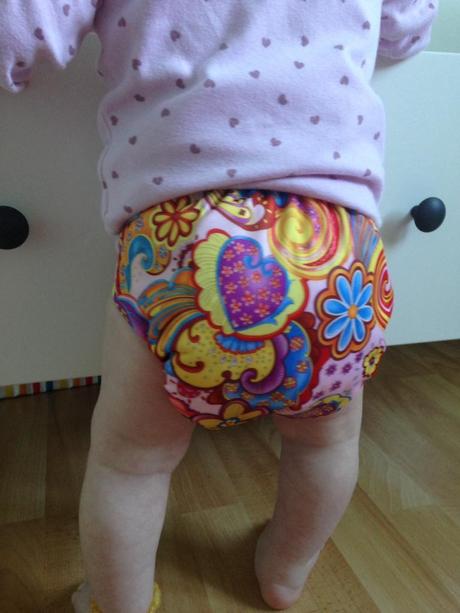 Overall:
The Freeva nappy gets a 4.5/5 from me! I genuinely love this nappy - it looks great, is easy to use for even a cloth nappy novice, and the larger size of the nappy means it will last Isabelle for a long while to come. I am very certain this Freeva will soon be joined in my stash by many more very soon...
Now, thanks to the very lovely people at Freeva, you can use the voucher code NATURALMOMMAINME to get 5% off when you buy any of their great products. The best bit? There is no limit to the number of times you can use it!