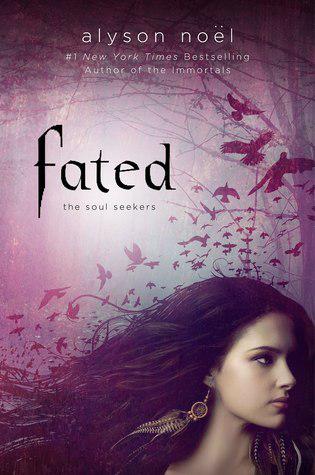 Publication Date: May 22, 2012
Publisher: St. Martin's Press
Series: Soul Seekers #1
Young Adult
Pages: 352
Genre: Paranormal, Romance

Lately strange things have been happening to Daire Santos. Animals follow her, crows mock her, and glowing people appear out of nowhere. Worried that Daire is having a nervous breakdown, her mother packs her off to stay in the dusty plains of Enchantment, New Mexico with a grandmother she's never met.


There she crosses paths with Dace, a gorgeous guy with unearthly blue eyes who she's encountered before...but only in her dreams. And she'll get to know her grandmother—a woman who recognizes Daire's bizarre episodes for what they are. A call to her true destiny as a Soul Seeker, one who can navigate between the worlds of the living and the dead. Her grandmother immediately begins teaching her to harness her powers—but it's an art that must be mastered quickly. Because Dace's brother is an evil shape-shifter who's out to steal her powers. Now Daire must embrace her fate as a Soul Seeker and find out if Dace is one guy she's meant to be with...or if he's allied with the enemy she's destined to destroy. 
*Advanced Reader's Copy provided by publisher and Julie Cross for the Perfect Ten*
I was expecting something grand while reading Fated. This being my first novel by Alyson Noel, I was hoping it'd be a keeper. Unfortunately, the cliches and awkward pacing of the novel as a whole didn't do it for me.
The gruesome descriptions vividly brought me into this book, captivating my interest and utilizing the ultimate question: What is going on with Daire? Taking a trip into Enchantment, New Mexico to visit her grandmother and learn what the hell is going on inside the workings of her mind to bring images such as severed heads on pikes, leaving her screeching in public and banned from airlines altogether. Enchantment is where it all takes place, her last option and her mother's final go-to in order to help her daughter.The whole beginning is meticulously planned out, every increment, long and tedious and overstrung. The ending happens in a flash. It was rushed. Noel takes such care and detail in the beginning and then, when the final battle comes around, I'm confused because it literally happens in almost three pages. It comes and goes and then it ends. With such a long drawn out beginning, I was hoping--expecting--for a more grandeur ending sequence. It irked me and just ruined the flow and the pacing.Not just that, we all know that twins happen to be a big prophetic choice: one of dark, one of light. We've all heard it before. Well let's introduce Dace and Cade. Yeah, it's cliched beyond while reading. When Daire first enters school we find the common bully that goes and weeds the main protagonist out. Now I've read many books with this and I find it a revolting and mundane antic to use for a new girl in school. This part was just bothering me, Darie's mother and her strange mood swing and unexpected visit to Enchantment. She brought her daughter there to get better and by the end she's threatening to pull her out of there. I just didn't follow and made me both annoyed and confused with her character.All in all, I enjoyed the premise of the story and the descriptions. The Seeker ideals and the spirit animals were an interesting take and had me continue but the cliches and the lagging-then-sporadic pace of the novel made it hard to enjoy it in the end.

First Line:
First came the crows.
Story:
B
Cover:
S