Chris Hemsworth has gone into a complete action-hero mode in Extraction, a 'Call of Duty-esque' bravura with so much machismo and bravado. Written by Joe Russo and helmed by his Civil War and Endgame stunt collaborator, Sam Hargrave, this actioner is the closest to a non-comical comic-book movie for Hemsworth. It's undoubtedly a cliche-ridden no-brainer, but it's done right.
Hemsworth is Taylor Rake, a mercenary sent to rescue an Indian druglord's son kidnapped in Dhaka, Bangladesh. It's the blandest kind of mission—straightforward and predictable—even when complications arise with different agendas. And yet, as Rake exfiltrates deep into the enemy territory, the mission gets deeper in his mind as well, making it personal.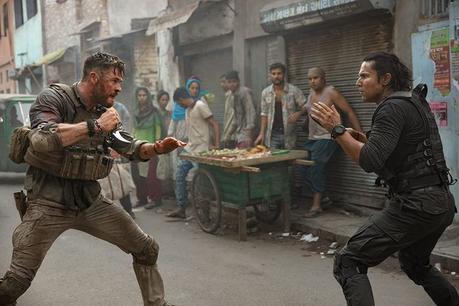 Chris Hemsworth versus Randeep Hooda in Extraction (2020)
One thing for sure, Rake isn't a mere robotic killing machine. There's a well-concealed backstory in him, albeit thin. The backstory has given this character a driving force to create a more contemplative drama amidst the catastrophe; but, it's not enough to distract the impending action bravura from commencing and blaring at full volume. Most importantly, it's not enough to wash Extraction from the white-savior syndrome (even when the white guy is basically hired); even when the character is depicted to bond with the druglord's son he's been meaning to rescue. In the end, he's become that alien character who jumps out an unnaturally sepia-colored third-world country and ends up the hero. 
The action sequences, however, pays off satisfyingly. Combining the heavyweight 80s action gung-hos with quicker and slicker close-quarter combat a la John Wick, Extraction offers a fresh take on the genre. The stunt team understands Hemsworth's posture pretty well; therefore, more agile set-pieces are well-avoided. In exchange, they inject the action-hero with a series of adept submachine gun-fu that looks pretty believable. The closest experience will be the whole action sequences in Captain America: The Winter Soldier which feels heavy but agile at the same time. The cherry-on-top, however, is the high-octane, one-take car chase along with the gunning choreography. It's well-crafted and awe-striking in every detail. Hemsworth, driving a car with Rudhraksh Jaiswal (portraying Ovi, the Indian druglord's son), rips the seemingly overheated streets of Dhaka with the camera that goes from the rear window to the front one, which will eventually crack, then moves to the flank fluidly.
The middle section of Extraction flows rather slowly as the pacing feels to be halted to humanize the main character and convey audiences, by standards of Disney-alumni, that it's not some xenophobic Hollywood actions that often objectifying people of foreign countries as either human punching bags or one-dimensional crook (well, the latter part might not be well groomed by Hargrave and Russo Brothers, who write the story based on Andre Parks' graphic novel, 'Ciudad'). The whole dramatization, somehow, spoils the energetic intensity on the making; fortunately enough, the end-game of the movie delivers.
Given its direct-to-Netflix release, Extraction has now delivered the much-needed persona Hemsworth is needed in aftermath of his Thor tenure. It's pretty disappointing that his comic persona is stripped down to bare, but, Hemsworth as Taylor Rake is tempting. As it turns out, this pretty straight-forward actioner is the perfect vehicle for Hemsworth.

6.8
Extraction (2020)
1h 56min | Action, Thriller | 24 April 2020 (Singapore)
Director:
Sam Hargrave
Writers: Joe Russo, Ande Parks
Stars: Chris Hemsworth, Bryon Lerum, Ryder Lerum
Summary: Tyler Rake, a fearless black market mercenary, embarks on the most deadly extraction of his career when he's enlisted to rescue the kidnapped son of an imprisoned international crime lord.
Countries: USA
Languages: English, Hindi, Bengali
Source: imdb.com
Disclaimer: This plugin has been coded to automatically quote data from imdb.com. Not available for any other purpose. All showing data have a link to imdb.com. The user is responsible for any other use or change codes.