I was so excited to try out these pens... Besides the obvious fashion/shoe obsession, I love office supplies!! Pens/notepads/pencils/etc.!!
UGLee pens are ergonomic pens designed with only your comport in mind, and do they ever live up to their title as 'World's Most Comfortable Pen!" I was so excited when I received a three pack of pens, in PINK! My favorite color! I have had to fight my mother and brother off just to keep them in my possession!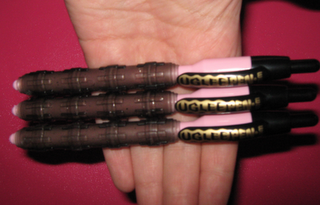 These comfort pens are by far the best pens I have ever written with, and I am a 'list' kind of person, I write lists for everything and anything so I write a lot! Like I said, my mother and brother have also tried them out and loved them, I'll have to keep a close eye on them, to make sure I get to keep at least one!!
Would you like to try out the UGLee Pen? Enter the giveaway below and you could win yourself a random color of 3-pack of UGLee Pens!
a Rafflecopter giveaway
*I was sent a pack of pens in exchange for an honest review, all above opinion are 100% my own.*