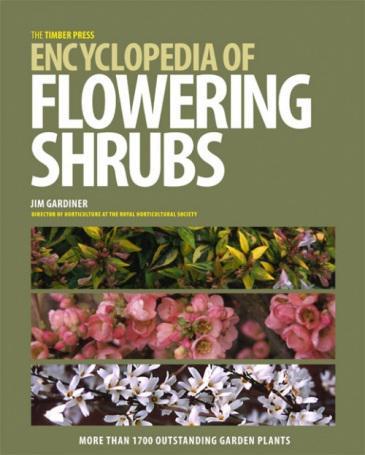 The arrival of a review copy from Timberpress of the Encyclopedia of Flowering Shrubs by Jim Gardiner was very timely.  I have recently realised, a bit slow off the mark, that having a larger garden than I have previously had I can think about buying shrubs.  This is a whole new world to me as generally in the past my plant purchasing has been limited to annuals and the odd ubiquitous shrub bought from the nearest large DIY store.  However, now my horticultural knowledge has expanded I want to put more thought and consideration in to my shrub purchases.
Jim Gardiner, the Director of Horticulture and Chief Curator of all the RHS gardens in the UK set out to create a photographic version ofThe Hillier Manual of Trees and Shrubs.  He states in the introduction that "choosing between different species and cultivars is that much easier by means of a photograph of each plant along with a description of essential data".  I have to agree with him completely, I have been frequently frustrated at long and wordy description which have been so dry that I have struggled to visualise the plant.  What Gardiner doesn't highlight in his introduction is that many of the photographs show the whole plant not just the flowers.  I think this  is invaluable, whilst it is nice to consider the flowers, you really need to be able to see the eventual shape and height of the whole plant.  I believe Christopher Lloyd also lamented the fact that catalogues often just show the flowers and not the whole plant which is what you live with 12 months of the year, whilst the flowers are often only there for a few weeks.
What is quite striking about this encyclopedia is the lack of text compared to other plant encyclopedias I have seen.  On reading Gardiner's introduction you discover that he has decided to take the approach that as shrubs are generally easy to grow there are no cultivation instructions unless there are very specific instructions relating to that plant such as: special pruning instructions, if the plant can be used for specific uses such as hedging or  whether it can be used in a specific location such as up a wall.  After my initial surprise I found this approach quite refreshing as I have wasted far too much time wondering what is meant by "well draining, moisture retentive soil" which the majority of plants seem to need and I am not convinced exists.
Instead of the normal density of text you get in such books there are photographs and photographs and photographs; in fact over 2000 of 1700 different plants.  There are 16 varieties of Forsythia which surprised me as I thought there was only one, though to be honest I did struggled to spot the difference between them all.  I was particularly interested in the pages relating to Hydrangeas, nine pages in total, as I was planning this weekend to buy one for a particular spot in the garden.  I had discovered back last autumn that there were more to Hydrangeas than the big mop heads and I had been particularly won over by some Hydrangea serrata that I saw in a garden.  They have very delicate flowers by comparison.  On looking through the encyclopedia a number of Hydrangea serrata were shown and Shirofuji went to the top of my list.  Luckily there is a specialist nursery near me and a plant was secured this weekend.
The other thing that surprised me was the sheer variety of flowering shrubs available.  I was particularly taken with Asimina triloba which has wonderful purple maroon flowers that reminded me of chocolate decorations or maybe Jovellana violacea which has pale violet bell-shaped flowers or even Paliurus spina-christi with racemes of pale yellow flowers but also bright  green leaves which turn yellow in the Autumn.  I could go on but I will definitely be looking more carefully at this book as I want to add more shrubs around the boundaries of the back garden and also in the front garden to create a sort of baffle to the outside world.
At the end of the book there is a quick reference table where you can quickly select shrubs via their type of foliage, flower colour, size, aspect, flowering season or soil requirements.
This is not a book I would ever have gone out to buy due to ignorance of the importance of shrubs in the garden and a previous experience of very wordy dull books on the subject but I am glad that I received it as it goes against the norm of this genre and I would recommend it to anyone who is interested in flowering shrubs.  I am sure I will refer to it over and over again in the future.
Advertisement