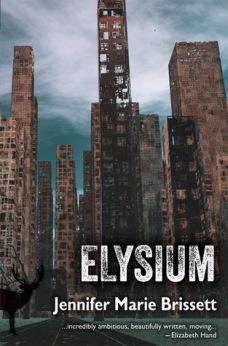 Elysium by Jennifer Marie BrissettAuthor Website
Amazon (UK)
Amazon.com
I read this book for the Popsugar Reading Challenge 2016. I'm doing the challenge in category order. This is my book for the 'a romance set in the future' category.
Aqueduct Press (ebook), 2014190 Pages

A computer program etched into the atmosphere has a story to tell, the story of two people, of a city lost to chaos, of survival and love. The program's data, however, has been corrupted. As the novel's characters struggle to survive apocalypse, they are sustained and challenged by the demands of love in a shattered world both haunted and dangerous.
They left that basement and walked uptown in the dimness of daybreak. The streets were a deserted mess. Cars stopped in traffic with no one in them. Newspapers and trash flying around. Smashed windows on the storefronts. And silence. Their footfalls echoed off the tall buildings. Behind the grey clouds it was speckly, like a monitor screen gone wrong. A small green dot hovered up there. Adrian watched it for a while as they walked until it blipped out of existence.
Elysium is one of the strangest books I've read in ages - in a good way. A casual glance would make this book seems disjointed and off-putting with the constant time and character shifts and even pages of broken computer code. However, this is one of the most original and interesting books I've read in ages. Similar characters and circumstances are repeated so you don't really get lost thought the structure took a while for me to get used to. This is a bold book for a debut and works brilliantly. The basic premise of the novel is that damage AI is trying to makes some sense of its origin and how it lost its mate. I started too really like the computer code sections after a while. These sections serve as an indication that something has been lost and the computer is rebooting and trying to make it work the next time around. I look forward to seeing what wonderful madness the author comes up with next.
Elysium is astonishing.