When you've  been to the same Dot to Dot a few times, whether it be Bristol, Nottingham or Manchester you try to find your own routines. But truth is no two times are the same and no two people's experiences are the same. As we have since 2009 we'd like to share our experiences of Dot to Dot with you…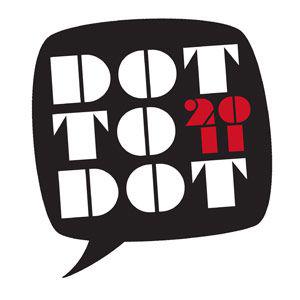 Dot to Dot Bristol
28th May 2011
The past couple of years I've tended to go into laborious detail of my day, I thought this year I would just concentrate on the music. The unfortunate and highly tedious reason for this is that we were stuck in traffic when our usual anticipatory shenanigans at the shakespeare would be going on. Maybe that's for the best ;)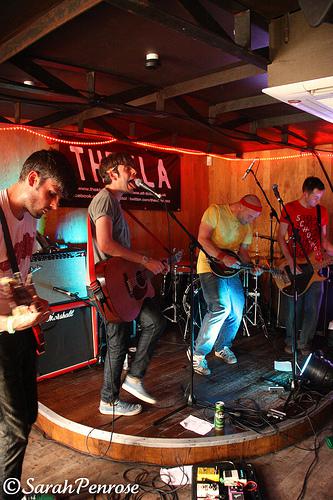 Stagecoach
We started off in the Thekla about 4pm. Proceedings took a little longer to get going this year which is perhaps a good thing as it gives you time to find your feet and from a trade point of view people are less inclined to drink at noon. No matter the times you've been to the Thekla it tends to strike you with just how unique seeing live music on a stationary boat is. It's become an essential stop on any up and coming band's tour schedule.
What a start to the day though. Stagecoach maybe don't quite get over on CD what they do live, but truly they are a real force in person. With songs about Giles from Buffy and a Weezer-esque sure fire number for the Grease 3 soundtrack, each one sounds like a future Indie anthem.
Comparisons to Los Campesinos! come from the feel good shouty emotion that is on show throughout but with the added element of back and forth, duelling vocals as well as a borderline Americana pop punk sound. You wouldn't know the majority of the people here hadn't heard them before today, their music sounds fresh yet familiar and everyone's rocking out by the end; the band hanging off rafters and on top of tables, they're a band you could watch again and again and be enthralled each time.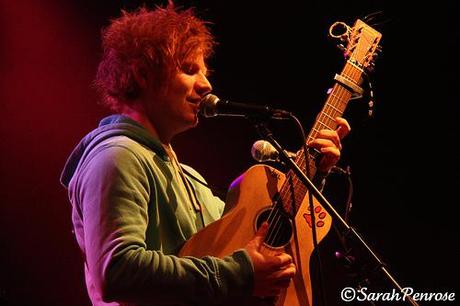 Ed Sheeran
Ed Sheeran seems like a normal enough guy, he just happens to be a normal guy who happens to have Radio 1 and Red Top papers eating out of his hand right now. Why is this? I, and an Academy full of others felt compelled to find out.
Armed with an arsenal of radio friendly tunes, the lone troubadour took to the stage in a hoody with only a guitar and a loop pedal to assist him in showing us what everyone else has been talking about. He's not too quick to pull out the big guns, prefering to show just how fast he can speak (i'd be reluctant to call it rapping) and it is impressive. The more traditional aspects of his work maybe lack a little in terms of standout features but when he plays A-Team and I need you… You can't help but take notice.
They were met predictably rapturously and gave us the afternoons first couple of singalongs. Whether his stay in the public consciousness will be for the long term we'll know by the sobering chill of Autumn but either way he's going to be leaving us with a welcome few new soundtracks to these long summer nights.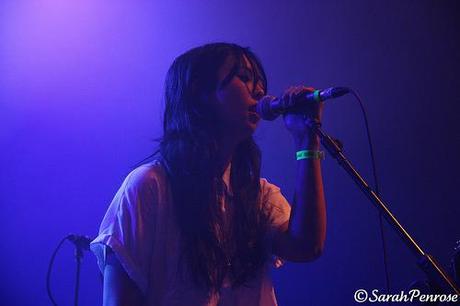 Naked and Famous
The NME new band of the year. The band that most festival goers will have at the top of their "to see" list.
The first three minutes of their set was like a tribal ritual welcoming the coming of the night. Anyone who was thinking about judging their performance was soon going to be enjoying it unashamedly with the rest of an absolutely packed mainstage of the Academy. The night undoubtedly starts here and when Punching in a dream kicks in any doubts are told kindly to eff off.
I had high hopes for these guys sure, but I had no idea they would tear the place apart this hard. They stormed it from start to finish. For a 'new band' they have one hell of a repertoire.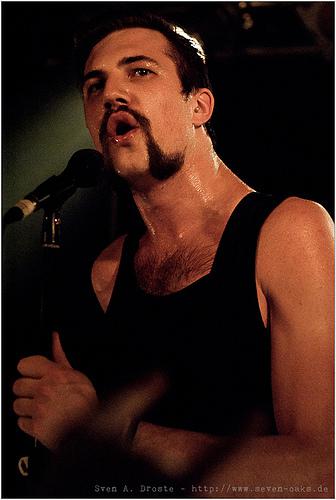 Royal Republic
Surprise of the day for sure. Though only really because I didn't know them before today, had I done I would of been well aware of the monsoon that was about to hit me.
Walking upstairs to Academy 2 it sounded like the apocalypse. This is heavy pop at its Swedish best.
Charisma was just oozing from theses guys' pores, the front man Adam Grahn in particular held this captivated audience like one of those energy balls from Men In Black, smashing them around the room at will.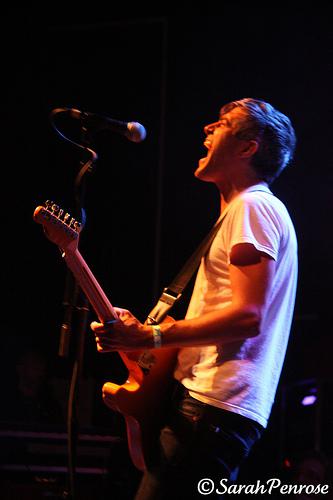 We are Scientists
Hearing "After Hours" live was the highlight of the festival for me. It sums up the way a lot of people feel and it's always poignant witnessing a song that means alot to you, resonating on the same level to other people.
I think us British appreciate it when a band comes a long way to play our little country and that certainly rang true with the reception We are Scientists received. Indeed this was just a stop off before they come back to our shores in a couple of weeks where they're playing venues they really should know they're bigger than! It's endearing that they don't seem to and anyone who didn't think they knew any of their songs were put right when 2005′s inescapable "Nobody move, Nobody get hurt" ricocheted around the Academy.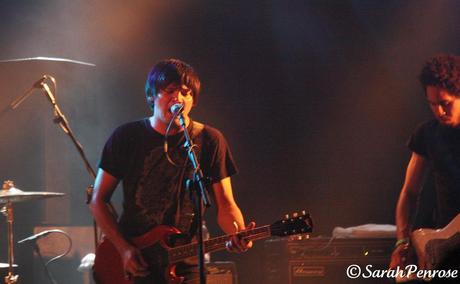 … And you will know us by the trail of dead
This was the first time I'd made the journey to the Anson Rooms, the student union venue. Due to this it was also when we had our traditional "getting lost", so close to the end of the night but it had to happen at some point.
… Trail of dead have 11.5 million plays on last.fm alone, here they were playing to a room a quarter full. Whether you appreciated the magnitude of this moment or not I think everybody here knew they were privileged to be witnessing them in such an intimate setting.
Conrad Keely's confident and menacing guitar playing showed the assurance that comes from 15+ years experience of melting the faces of all standing before them. Anyone expecting a more low key performance that was suggested by their latest offering were about to blown away, along with the other couple of hundred people by some outrageously huge soundscapes that constantly threatened to raze this multi-purpose room.
I can only imagine how much of a treat this was for their actual fans, apart from the setting their set list ranged from the very first song they recorded to their return to form of 2011′s Tao of the dead.
Though for many, this was a little too much after a long day you couldn't help but take a moment and think yeah, "we're here watching trail of dead". And, as Dot to Dot regularly leaves you feeling; in that and numerous other moments over the course of the day, life was pretty good.
Make sure you're there next time out. See you next year!
Unless otherwise stated on photo,
all visions courtesy of
Sarah Penrose
Photography