Have I mentioned how much I love my county's library system?   I got every book I wanted to read for the San Diego Comic Con for free from the libraries in my area, that's one of the best perks of living in a major city.  I got an advanced copy of Don't Look Now at this year's San Diego Comic Con and when I got home and looked it up I discovered it was a sequel.  Well it feels like cheating to read a sequel without reading the first one but I was delighted to find that the Maricopa County Library District had an e-book version of the book available for immediate download.  There's nothing more convenient than that!
Here is the synopsis of Don't Turn Around from the book's Goodreads page:
In Michelle Gagnon's debut YA thriller, Don't Turn Around, computer hacker Noa Torson is as smart, tough, and complex as The Girl with the Dragon Tattoo's Lisbeth Salander.

The first in a trilogy, Don't Turn Around's intricate plot and heart-pounding action will leave readers desperate for book two.

Sixteen-year-old Noa has been a victim of the system ever since her parents died. Now living off the grid and trusting no one, she uses her hacking skills to stay anonymous and alone. But when she wakes up on a table in a warehouse with an IV in her arm and no memory of how she got there, Noa starts to wish she had someone on her side.

Enter Peter Gregory. A rich kid and the leader of a hacker alliance, Peter needs people with Noa's talents on his team. Especially after a shady corporation threatens his life in no uncertain terms. But what Noa and Peter don't realize is that Noa holds the key to a terrible secret, and there are those who'd stop at nothing to silence her for good.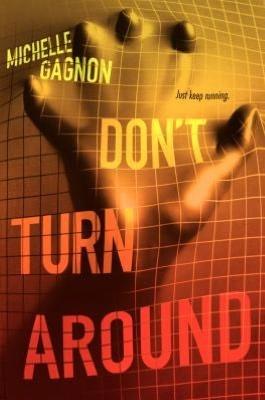 So this might be weird but sometimes I purposefully don't read the Goodreads synopsis or even the back of a book before starting a book.  If I know I'm going to read it and I don't need the synopsis to convince me I just skip it, it's a strange fear I have of spoilers.  No matter what a synopsis spoils something and I like to be surprised!  That was how I approached this book, but for this one I think I wish I had read the synopsis first.
It says right there that Noa is just like Lisbeth Salander from The Girl with the Dragon Tattoo and I wish I had known that was a specific marketing tool.  I LOVED The Millennium Trilogy so much (they're all on my favorites list!) and so at first it just felt kind of cheap.  But this is really not very fair of me because it is an incredible multi-layered story that's better than any other of its kind that I've read, and so it deserves a YA counterpart that's more appropriate for younger readers.  Because as much as I love The Millennium Trilogy it definitely is rated R!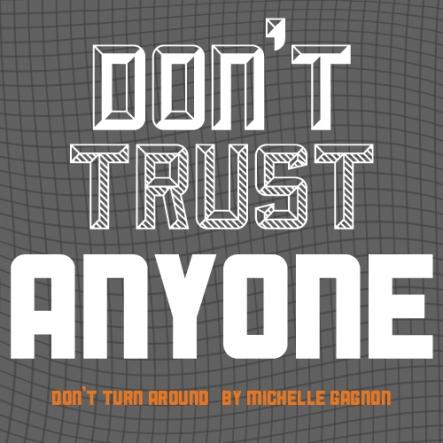 Noa is so incredibly smart, quick on her feet, and possesses a skill for survival that I wish I had.  She gets herself out of the stickiest of situations when I saw no solution to the puzzle.  Peter is a great counterpart because although they have their computer skills in common, in everything else they couldn't be more different.  I loved watching these two interact and they played well off of each other.
The ending to this book was near perfect: a slight cliff hanger that leaves you ready for the next book but not annoyingly unsatisfied.  I love a decent cliff hanger that has me impatiently waiting for the next one but sometimes it's like, okay, really?!  That's your ending?  This book's was perfect.  That being said, I'm especially excited for the sequel because since I found this storyline a little too similar to TGwtDT I'm thinking it'll really becoming its own original story in Don't Look Now.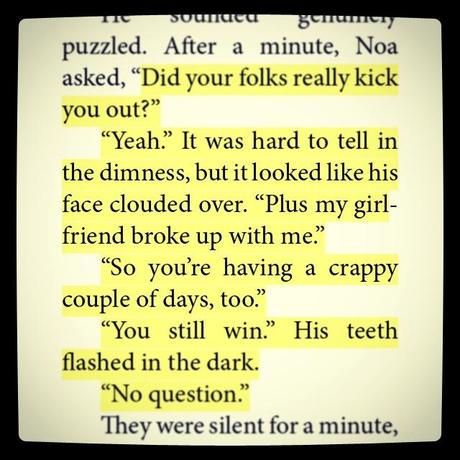 I would recommend this who found The Girl with the Dragon Tattoo a little to intense for them, for fans of crime novels, and especially technology and computer crime conspiracy.
What are some of your favorite crime stories or novels?  Oh, and don't forget to keep an eye out for a review and giveaway of a SIGNED advanced copy of the sequel!
You May Also Enjoy:
Review: "Big Egos" by S.G. Browne
Giveaway! 2 Copies of "Big Egos" by S.G. Browne
Review and Giveaway! "Resurrection Express" by Stephen Romano
Review & Comic Con Spotlight: "Spellcaster" by Claudia Gray
Review: Unholy Night by Seth Grahame-Smith
Saturday's Comic Con Schedule: Book & Author Spotlight
Comic Con Wrap Up Report: Thursday
Review: "Warm Bodies" by Isaac Marion